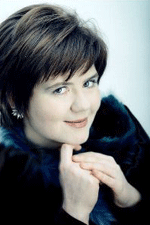 Interview with the Pianist Dana Ciocârlie
Monday, 27 January 2014 , ora 11.44

The pianist Dana Ciocârlie will be in Lausanne tonight, 27
th
January, 2014, together with the local symphonic orchestra and the pianist and conductor Christian Zacharias.

Dana Ciocârlie, this year has had a very beautiful and interesting start for you. What are some of the challenges you're facing?
It has been a very full beginning of the year. There are a lot of things to play, one after the other, in very quick succession. I have the privilege to play once again Mozart's Concerto for two pianos, together with Christian Zacharias and the Orchestra of Lausanne. This time it will be in Lausanne, on 27th and 28th January, and then I'll hop on a plane to play on the 30th, to the La Folle Journée Festival in Nantes, which will be dedicated to American music this year. So, I will have two recitals with violinist Jean Marc Philips, with American compositions, such as, Amy Beach, Elena Rough, a contemporary composer and with sonatas by William Bolcom. When I return from Nantes I will take part in a memorial concert, commemorating the First World War, at the Opera Bastille in Paris, where I will play compositions by Ravel, such as Le Tombeau de Couperin and the series by Darius Milhaud, songs composed or dedicated to the memory of French musicians who died in the First World War. The series will end with a cello and piano recital with Sebastian van Kujik, in Paris at the Salle Cortot, on 10th February.

That is almost two weeks of extremely varied programmes, with a vast repertoire, I would say, from the classical to the very contemporary. After this journey to Switzerland and France, do you still have the time to think about recording or other concerts and recitals?
The recording continues, because once every six month I play in public Schumann's complete works. There will be two recitals in May, and they are recorded live, at the Byzantine Hall of the Romanian Embassy in Paris and this year I have two more contemporary music recordings schedules, works by two composers who have dedicated me new songs, and Jacques Luneau, who has just had an extraordinary creation in Paris. So Jacques Luneau's will be a composition for piano and violin, and there will be a very important, very long cycle by Olivier Plounard, for solo piano. I will record all of these throughout 2014.

Is there any special project for your following years, are there any complete works you intend to play?
Schumann's complete works is my life's special project. I don't know when that will end, because there are 16 concerts, about two or three a year, so I have only reached the sixth concert so far; it will take some time considering the size of the project. I think it's a good long-term plan.
Irina Hasnaș
Translated by Irina Bortoi and Elena Daniela Radu
MTTLC, The University of Bucharest