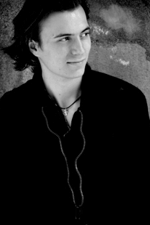 Interview with Composer Vlad Maistorovici
Thursday, 30 January 2014 , ora 11.36

One of the most interesting musicians of his generation, Vlad Maistorovici combines the career of both a soloist and a composer. He gives recitals and concerts that consist of a vast repertoire, from classic to contemporary music. His works are performed by soloists and instrumental or symphonic ensembles of world renown.

Welcome back to Bucharest, Mr Vlad Maistorovici, this time with a first hearing in Romania. You are in the company of the George Enescu Philharmonic Symphony Orchestraand maestro Christian Badea, who has often shown his interest in contemporary works. A few words on the piece we are going to hear.
It's good to see you again! I am very happy that we will be performing this piece in Bucharest, too. It is called Halo, it's an orchestra piece I have written for the London Symphony Orchestra in 2010. I don't feel as nervous as I do before a world premiére, but, naturally, when my music gets performed at home, in my native country and especially at the Athenaeum, a hall that I love so much, and as it's the first collaboration with the George EnescuPhilharmonic, I am definitely very anxious and excited.
The piece is a symphonic poem, it is based on a concept, but first of all, it tells a story - a story about sensations. It is inspired by the optical halo that forms around a source of light. It has to do with symmetry, circularity and this is what's inspired each of the pieces, harmonies and the whole structure of the work. It is a work in the tradition of programmed symphonic music in a contemporary interpretation.

You were saying that this opus was dedicated to the London Symphony Orchestra, but it was also performed by one of the French orchestras. What was the impact of this piece in London and in France?
Certainly, the audience is different from one place to another, whether we are speaking about new music or music that is well-known. I believe it went down well. I am curious to see how the Romanian audience will react and I am very glad that we will have maestro Christian Badea as the conductor. It is on this occasion that I have met him and I'm very honoured to work with him.

What are your projects for this year and for the following years?
I have started a few projects and I usually try not to get into details until they begin to take shape, but I have planned several chamber music and symphonic pieces.
Irina Hasnas
Translated by Anca Gheorghiu and Elena Daniela Radu
MTTLC, The University of Bucharest