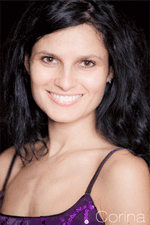 An Interview with Corina Belcea
Monday, 3 February 2014 , ora 8.00

The violinist
Corina Belcea
has recently become a mother for the second time, but this doesn't stop her from having an extremely dynamic schedule. The agenda of the Belcea quartet, whose leader she is, includes concerts all over Europe and, starting with September, in the entire world. The row of triumphs has already begun, with the concert given by the four musicians at the Opera Bastille in Paris. We'll learn more details from the artist herself, who granted us a short exclusive interview.

Mrs. Belcea, could you please tell us more about the reception of the concert that you gave at the Opera Bastille in Paris on 26th January?
It was a promising start for the year, a concert with a repertory which is very dear to us: String Quartet in D Major 'Hoffmeister' by Mozart and String Quartet No. 3 by Benjamin Britten. It was a good beginning, especially since we don't play in Paris too often, so when we do perform, it always represents a great event. The hall was packed and, true, it's the first concert after a rather long break - we have added a new member to the family: a little girl, who is now six weeks old. We are gradually getting back to our usual rhythm.

You started with a bang, we could say. I have looked over your schedule and you'll have concerts all over Europe in the near future. What other projects do you have?
We always have projects, but financial obstacles often appear, as in any other field; what we really wish, with all our hearts, is to record the three quartets by Britten on a DVD. We wanted to do this last year, but unfortunately, the organization for this project was not very good. We hope that this April it will become reality. We have been playing Britten's quartets for a long time and he is a very important composer to us. Two years ago, the recordings for television of Beethoven's quartets enjoyed great success, so now this project with Britten's quartets has been proposed to us and we would be really delighted if this miracle happened. Besides the concerts you mentioned, we are now leaving on a tour in Italy and after that, we'll be wandering through Europe - there are collaborations with other artists, dear friends of ours. Then, a few tours will follow: in Korea, in September and in America, in October.

Is Romania part of your itinerary?
Yes, it is. We'll finally come to Bucharest, too - not this year, but next year in September, within the 'George Enescu' International Festival. We are really honoured to participate in this festival and it seems that, at last, we'll come to the next edition. We are very, very happy about it.
Petra Gherasim
Translated by Mihaela Olinescu and Elena Daniela Radu
MTTLC, The University of Bucharest