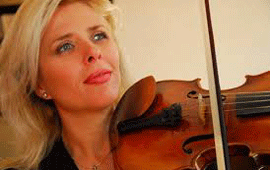 An Interview with the Violinist Clara Cernat
Wednesday, 5 February 2014 , ora 15.18

The duo Clara Cernat – violin and Thierry Huillet – piano will give two recitals dedicated to Romanian music in Italy and France, this week.
The violinist Clara Cernat and the pianist and composer Thierry Huillet are both professors at the National Conservatory in Toulouse, France. Together, they have an intense artistic activity, performing recitals in important cultural centres and promoting the classical and contemporary creation, both Romanian and international.
Their activity was rewarded with prizes, good reviews and the appreciation of the audience.

Clara Cernat – Thierry Huillet, here you are again on an extremely interesting journey. You propose a programme comprising exclusively Romanian works. Where will you be this week?
We'll start this programme at Teatro Giuseppe Verdi in Pordenone, a town near Venice. It's a very beautiful theatre with 900 seats and a rather impressive season: not only classical music, but also theatre plays. For many years, it has organized a humour festival which is very famous in Italy. We are really delighted to be able to offer the Italian audience this programme which was requested expressly – Romanian music. We will play the same programme in Paris, next Wednesday. On 5th February we'll perform at Pordenone and on 12th February at the Byzantine Hall of the Romanian Embassy in Paris; it's a concert organized by the Romanian Cultural Institute in Paris.

The duo Clara Cernat-Thierry Huillet is known for promoting Romanian music. At the end of 2013 you were on another tour, this time in South America.
Indeed, at the end of 2013 we were on an amazing tour, with concerts in Columbia. We play in South America very often, but Columbia was the country where we had never performed before. We have already played many times in Argentina, Brazil and Peru, but the Columbian audience has represented a great discovery: they are very enthusiastic and the halls were packed; and I'm talking here about halls with 800-1,500 seats. I had no idea that classical music could generate so much interest.

It was a successful tour, and the protagonist was the composer Thierry Huillet.
Yes, that's true. For me, playing his music, many times next to him, represents a great joy. Indeed, his music is very accessible to the audience, without being 'cheap'. His music is built around certain motifs, it has its roots in musical traditions before him; it's very well constructed and very well received and understood by the audience. I am glad when this happens, because a contemporary composer is a mini-universe. Each creator has his own universe and many of the great creators in the history of music were not understood by the audience of their period. So, I'm never happier than when I play Thierry Huillet's music everywhere and I see that the audience accepts it and, more than that, they like it and become fans.

Returning to the topic of the two recitals of Romanian music, which are the titles of the works you'll interpret?
We'll start the programme with a work by Tudor Ciortea – Suite on Folk Themes from Bihor which comprises The Song of the Bride, Maruntelul, Song Played from a Leaf, Ramosul; then, we'll interpret Christmas by Anatol Vieru, although Christmas is already gone. It's a wonderful work, based on Romanian carols and beautifully crafted. We'll also play two carols by Thierry Huillet. They are new creations, mirroring Anatol Vieru; Thierry created the motifs, but in the spirit of Romanian carols. We also have recently discovered – I confess that, although it's a work much played in Romania – Bagatelle by Ion Scărlătescu; it's simply brilliant: a short work, but very fresh and with absolutely fantastic motifs. We included Béla Bartók's Romanian Folk Dances, because I think that Bartók paid an incredible tribute to Romanian folklore. After that, we'll play Ciprian Porumbescu's Ballad, but in a new harmonization, recently created by Thierry Huillet, who also adapted the work for violin and orchestra using this harmonization: nothing is changed regarding the violin, but there is the moment when the motif is repeated several times on the violin. The accompaniment is changed and it's a very beautiful version that we'll also record on an album, in order to make it known. Thus, other musicians will be able to interpret this version of the accompaniment. We'll close the concert with a true 'monument' of the Romanian music: The Violin Sonata No. 3 in A minor, Op. 25 `dans le caractère populaire roumain` by George Enescu.

We wish you the best of luck and we thank you for being beside us and for remaining true promoters of the Romanian music.
Thank you. It's a great honour for me and I'm deeply touched to be an ambassador for the music of the country where I was born, of the place that gave me life.
Irina Hasnaș
Translated by Mihaela Olinescu and Elena Daniela Radu
MTTLC, The University of Bucharest