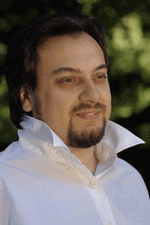 An Interview with the Baritone George Petean
Tuesday, 4 February 2014 , ora 9.40

Born in Cluj-Napoca, George Petean graduated from the 'Gheorghe Dima' Music Academy – the canto section – and then perfected his art with Vicente Sardinero and Giorgio Zancanaro.
He made his debut on the stage of the Opera in Cluj-Napoca in 1997, with the title role in the opera Don Giovanni by W. A. Mozart, followed by roles such as Malatesta in Don Pasquale by G. Donizetti, Silvio in I Pagliacci by R. Leoncavallo, Valentin in Faust by Ch. Gounod, Figaro in The Barber of Seville by G. Rossini, Marcello in La Bohème by G. Puccini or Ford in Falstaff by G. Verdi.
In 1999 he won the Grand Prize of the 'Hariclea Darclée' International Voice Competition in Braila.
His international debut took place at the Teatro dell' Opera in Rome, in 2000, in the opera La Bohème by G. Puccini. In 2002-2010 he was a permanent soloist at the Opera in Hamburg.
Among his projects, we mention: The Barber of Seville at the State Opera in Vienna (2011), Faust by Ch. Gounod at the Metropolitan Opera (2012), La Bohème by G. Puccini at the Gran Teatre del Liceu in Barcelona (2012) and at the Royal Opera Covent Garden in London (2012), The Duke of Alba by G. Donizetti at the Flanders Opera (2012), Don Carlo by G. Verdi at the State Opera in Vienna (2013), La Traviata at the Hamburg State Opera (2013), the Opera in Zurich (2013), the State Opera in Vienna (2013) and the Royal Opera Covent Garden in London (2015), Rigoletto at the Hamburg State Opera (2013), the Opera in Strasbourg (2013) and the Opera in Zurich (2014), Attila at Theater an der Wien (2013) and the Opera in Monte Carlo (2016), Lucia di Lammermoor at the Opera in Berlin (2012) and the Opera in Paris (2013), A Masked Ball by G. Verdi at the State Opera in Vienna (2013), at the La Monnaie Theatre in Brussels (2015), The Elixir of Love at the Opera in Monte Carlo (2014), Simon Boccanegra by G. Verdi in Japan (2014), Luisa Miller by G. Verdi at the Hamburg State Opera (2014), Ernani by G. Verdi at the Opera in Liège (2015), I Puritani by V. Bellini at the Opera in Zurich (2016).

Mr. George Petean, thank you for accepting to give us this interview. I would begin our conversation by quoting the words of Dominique Meyer, the director of the Vienna State Opera, with regard to your presence there: 'It is a great honour to have the baritone Gheorghe Petean as our guest.' So, Mr. Petean, your career takes you all over Europe and not only on our continent. How was for you the end of 2013?
At the end of 2013, I sang Rigoletto in Strasbourg, in a production signed by Robert Carsen, one of today's greatest directors of. It was an extremely difficult production, but also very interesting: Rigoletto is a circus clown; he loves his job, it's his passion, and at the same time, he hates it because it becomes what we know that usually happens to Rigoletto at the Duke's court. There are two aspects of this man: his job and his fatherly love.

This role also takes you to Hamburg, which has been your home for many years.
In Hamburg I had a permanent contract; I was employed by the Opera as first baritone during the period 2002-2010. All those years and even now, our collaboration has been active and fruitful. This year I'm singing Rigoletto, and I'll also perform in La Bohème and La Traviata; next year we'll have a premiere, with Luisa Miller. I am much indebted to the Opera in Hamburg, because I have learnt a lot on its stage and I have wonderful memories. At the same time, it's one of the most important opera houses in Germany. It was an amazing opportunity to be there so many years.

Mr. Petean, regarding Rigoletto in Strasbourg and Rigoletto in Hamburg: are there any similarities or rather more differences when it comes to the direction?
The two directions are totally different. The one in Hamburg was created 20 years ago and its concept is not necessarily related to the subject; it was more important to express exactly what the director wanted to communicate. In the case of Strasbourg, the direction follows faithfully the reality of the opera's subject. In Hamburg the direction is modern, like a cartoon seen from the hall. All the members of the choir wear yellow costumes, Rigoletto and Gilda are dressed in blue; the stage is white with black stripes, it has a minimalist design and doesn't provide an image of the real situation. At the same time, this direction operates with a lot of symbols. In my opinion, it's an extremely interesting direction and the situations presented are a little different. I'll give you an example: in the Strasbourg version, when Rigoletto finds out that his daughter was raped and he tries to calm her, this happens exactly in the manner written by Verdi, i.e. he tells her 'Cry, my girl' and he tries to comfort her, to help her; in the Hamburg version, this is a moment when he cries for himself. There are all kinds of slightly different feelings.

Starting tomorrow, you'll have three fellow countrymen next to you.
First, there is Ștefan Pop, the biggest Romanian hope when it comes to opera singers, who has already proved himself; he is a tenor who has performed on the leading stages and he has an amazing voice, he is an incredible artist and he will have the part of the Duke of Mantua. The other colleagues are: Cristina Damian, who is a very good friend of mine and has had a permanent contract with the Opera of Hamburg for a few years, just as I had – she sings the role of Maddalena; and last, but not least, Sergiu Săplăcan: he is the son of a tenor from Cluj, Viorel Săplăcan, who has borne the brunt at the Romanian National Opera in Cluj for years. Sergiu Săplăcan has been at the Studio of the Opera in Hamburg for a year; he also has a very good voice and I foresee a great future for him. It's extraordinary to have Romanian colleagues and the atmosphere here, in Hamburg, is very nice.

Cristina Damian told us that it was you who brought her to Hamburg.
When I find out about an audition at an opera house, I think of my colleagues in Romania who are very good and I try to find a way for them to audition. Now it's getting easier, but at the beginning of my career, coming for an audition was more difficult. People had less information, it was harder. We don't do this so as not to remain in Romania – let's get this straight -, not necessarily for a better life abroad, in the Western world, but because this gives us the opportunity to get in contact with great conductors, great artists from whom we have a lot to learn. Succeeding in singing abroad is good for one's career.

After this stopover in Hamburg, with Rigoletto, what's next on your agenda?
In February I'll go to Monte Carlo to sing in The Elixir of Love, with Ștefan Pop again and another Romanian colleague, Adrian Sâmpetrean. Adriano Sinivia's direction is just splendid. It's a production that was already broadcast on a TV channel, the performance in which Ștefan and I sang in Lausanne, an absolutely splendid The Elixir of Love. It's like a fairy-tale where we, the people, are very small, just like ants, and the plain is higher and we take fright at a wheel or at absolutely anything, because it's so big compared to us. It is an extremely nice performance and I can hardly wait to sing the role. Then, I'll return to Hamburg to sing in La Bohème and La Traviata, and in April we'll have rehearsals with maestro Muti; after that, we'll go with the Opera of Rome to Japan, to perform Simon Boccanegra.

Simon Boccanegra, here is a role which is, I believe, particularly dear to you!
It is extremely dear to me and I'll tell you why. For all who know and for those who don't know: I have a brother who is also a baritone and who has made one of the greatest careers possible for an opera singer. I listened to him singing Simon Boccanegra for the first time on the radio, in a broadcast from the Royal Opera Covent Garden in London and I was with my mother who, unfortunately, passed away two years later. In 1991 I listened for the first time to this Simon Boccanegra from the Covent Garden and it is an opera that has deeply touched me ever since that first time. It's one of Verdi's special operas, in which several composers can be heard. In fact, it is the only one where I can hear Bach, Chopin and Schubert at the same time; it's a fantastic work. I first sang Simon Boccanegra with maestro Muti in November 2012, at the Teatro dell' Opera in Rome and it is the greatest honour of my life. Maestro Muti had never before directed Simon Boccanegra because – he told me at the audition – he had never found a baritone voice he liked for the part. When I auditioned, he told me that I could be the one possessing the voice and technique that would convince him to direct Simon Boccanegra for the first time. To me, this represented an amazing honour.

So, this is a dream come true, which will take you to a different part of the world.
Yes, that's right. It is perhaps the dearest collaboration that I have ever had, because from maestro Muti I learned in two months as much as I had learned in the previous 18 years of music.
What about other dreams you would like to become reality?
Honestly, I have no other dreams except making my debut in new roles, singing next to my colleagues that I respect when they sing and, at the same time, I adore as friends, preserving my health and moving on, because this was the maximum that could happen to my career: singing Simon Boccanegra with maestro Muti, in Rome. It's the only opera that, as I mentioned earlier, he had not directed, although he is known as the greatest Italian director of our days, when it comes to Verdi. In my opinion, he is also one of the greatest ever, not only of today. It is extremely important to be his choice for a premiere that he hadn't directed before. I wish to continue performing on the greatest stages of the world, in roles which suit me and which I like. Anyway, I'll make my debut in other roles as well, just as I have had a lot of debuts in the last 3-4 years. I'm trying to build a good career, maybe not an extremely busy one, but not one without progress either.

Is it very difficult in the current artistic environment to be a freelance singer?
This is a very difficult question, because it depends on who is your agent, on your luck, on the level you reached and on your singing, it depends on so many things…For some it's very difficult, for others it's something that comes as a matter-of-course. They say that it mainly depends on your personal worth, on your behaviour towards your colleagues, on your professionalism and on your agent. I am lucky from this point of view, as Mrs. Luisa Petrov has been my agent for many years; we have been working together since 2000. She practically took me on all of the leading stages of the world. I still haven't sung in Chicago or at the Scala, but I have received proposals from both. I have had 5-6 proposals that I couldn't accept because I wasn't available, it's not as if I couldn't have got there. I get requests all the time. The State Opera in Vienna is my favourite nowadays, because the amount of work is not exaggerated. You have to be prepared to adapt to this style: they don't waste time with unnecessary things, as it happens in other places, and, at the same time, they have one of the best orchestras in the world. When I am on that stage and I sing in a softer voice, you can hear how the orchestra automatically plays in lower tones, so as not to cover your voice. This happens only in the best opera houses in the world or in the old-established ones.

Mr. Petean, besides your performances in operas, did you find time for recitals? Did you alternate opera and concerts?
No, unfortunately this didn't happen. Not because I didn't have time or the necessary vocal qualities, but because I have never liked to give recitals. Recitals require a certain vocal level, the ability to sing both opera and lieder. Lieder are more special, they require an emotional weight; so does opera, to a certain extent. But you have to be more refined as a singer, given that the repertory of lieder can be German, French, Italian, English or Russian, so it's very complex.

In the end of our interview, could you please transmit a message to the Romanian audience who follows your career all over the world?
I wish all of them health and happiness, because these are very important in our lives. They keep us positive and in good mental health. I try to come to Romania as often as possible – this has always been my promise – but I still haven't managed to come to the Opera in Bucharest. Each time we speak on the phone, it just happens that we can't find an available date. For example, in March I'll sing together with the soprano Anita Hartig at the Athenaeum, accompanied by the Romanian Youth Orchestra. I understand that it's an amazing orchestra. In general, I sing in Cluj and Timisoara. I would also like to sing in Iasi and, as a matter of fact, all over the country, if possible, because I know that the Romanian audience can't afford to see me in Vienna or such other places, and I wish they can listen to me as long as I can perform to the best of my abilities. This is a promise I'm making: I'll come to Romania as often as possible, to sing and to try bringing a bit of joy.
Irina Hasnaș
Translated by Mihaela Olinescu and Elena Daniela Radu
MTTLC, The University of Bucharest