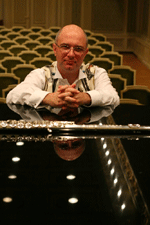 Interview with the Flutist Ion Bogdan Ștefănescu
Thursday, 6 February 2014 , ora 9.42

This evening, the Romanian Cultural Institute in London hosts the recital performed by the flutist Ion Bogdan Ștefănescu, the guitarist Bogdan Mihăilescu and the pianist Diana Ionescu; the recital is part of the concert series entitled
ENESCU - Re-ignited
, a trio with an original sonority and a programme that includes the greatest moments in the history of the universal music.

Mr. Ion Bogdan Ștefănescu, thank you for giving us this interview in London this evening together with two of your friends, in a very interesting recital. What is your proposal for the Londoners?
It is indeed unusual to include a flute-piano performance within a flute-guitar recital; but this is the protocol of these evenings organized by the Cultural Institute; therefore we must include one work by Enescu in the recitals of the Romanian musicians that are performed at the Romanian Cultural Institute in London. I will play Cantabile and Presto, because Enescu, as everybody knows, did not compose music for flute or piano. Regarding my flute-guitar formation, in London I will perform with Bogdan Mihăilescu, a lively guitarist, very serious and profound in his playing style, with a very good technique that he achieved in Germany. He studied in Germany and then in London, where he lived for another 10 years, studying with great guitarists. For him too, this performance represents a return in this extraordinary metropolis; we will have an extremely varied programme, in fact, we will go through all the music history: we will start with Telemann and Bach, we will play classical-romantic music by Carrulli and then we will get to the 20th century, with Machado and Piazzolla, and some explosive Latin-American dance suites, that I am sure will be very successful. We hope the public will enjoy what we will offer to them this evening. We could call it a tour de force, as the works that we will perform are very serious and difficult, but beautiful and spectacular and the same time.

Do you intend to release an album with your friend and colleague, Bogdan Mihăilescu, following this recital?
If Radio Romania Music invites us to record an album, we will be pleased to do it. It would be ideal for us as well, because we have worked a lot to this programme, we master it very well, and I believe it is a programme that the music lovers would highly appreciate, on an audio support, of course.

We thank you very much and wish you a great success. We would also like o add that, apart from Ion Bogdan Ștefănescu and Bogdan Mihăilescu, the pianist Diana Ionescu will also attend the event. In the present, she is studying in London.
Irina Hasnaș
Translated by Aida Birgilă and Elena Daniela Radu
MTTLC, The University of Bucharest