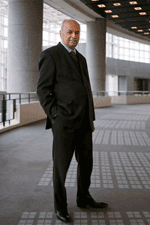 Interview with Nicolas Joel, the Director of the Paris Opera
Wednesday, 12 February 2014 , ora 8.52

Nicolas Joel graduated from Paris-Sorbonne University, where he attended staging classes. In 1973 he started as an assistant stage director at the Opéra du Rhin in Strasbourg, and in 1976 he was the assistant to the director Patrice Chéreau in Bayreuth for Wagner's tetralogy montage. Throughout his career he has been in charge of several opera houses in France. He has been the Director of the Paris Opera since 2009.

Mr. Nicolas Joel, the year 2014 is a special one. After spending many years managing some important opera ensembles you are going to return to your profession, as a stage director. Could you tell us something about some of your projects?
There are many operas that I would like to enact, which I haven't been able to do so far. For the time being I have a project for the production of a work at the Israeli Opera in Tel Aviv and I hope that there are going to be more invitations. At the Théâtre du Capitole in Toulouse there is an entire repertoire I have accomplished and which is still being performed.

One of your projects, when you were assigned the Director of the Paris Opera in 2009, was a studio, a studio for the young singers, a campus – as you entitled it. Has it been accomplished?
No, it hasn't been entirely accomplished, but it is on the right tack. We don't have any students attending it yet, the project hasn't been completed yet. However, we have the Lyric Studio for the young singers, and we also have the Orchestra Academy for the instrumental performers.

Mr. Noel, are there any young people interested in these studios dedicated to their artistry?
Certainly there are, because we provide them with a high education according to the conservatory studies and it is addressed to the young professionals who are at the beginning of their career and artistry.

Let's return to the Director of the Paris Opera. Are there any particular projects that have been accomplished and mean something special to you?
The big project – natural for a lyric theatre – was and it still is to put the music in the headlines. Thus, we named the conductor Philippe Jordan as a music director. He achieved distinguished results with our orchestra – a great public success and a high bench mark from the musical critics.

Regarding the repertoire, which are the works that you brought off?
There were several projects, but perhaps the complete works, Wagner's Tetralogy produced for the first time at the Paris Opera after more than fifty years was the topmost. This was for sure an enormous project to all accounts and it has been accomplished. We can't get round the debates on such kind of projects, but the result was all too good. There have also been works I cherish kindly, the ones less known from the Italian repertoire, as Francesca da Rimini by Zandonai or Andrea Chenier by Umberto Giordano – a repertoire that I care for very much and which I brought out.

You were told about Richard Wagner by two important people, namely the producer Patrice Chéreau and the conductor Pierre Boulez. You have finally managed to accomplish this project after almost forty years. Which was the cast for the tetralogy in Paris in 2013?
We had the best Wagner musicians from all over the countries – many from Germany and the Anglo-Saxon countries, Englishmen and North-Americans.

How did the audience in Paris receive this project on Wagner?
Very well; it was a great success and, I would take advantage of a contemporary adjective by saying it was a commercial success, an uppermost success which has evoked the public's interest.

We are in the half season 2013-2014. Which are its distinctive marks?
We re-staged an interesting production of the Werther opera by Jules Massenet, with our French tenor Roberto Alagna in the title part,that was a big success, with the French conductor Michel Plasson, who is an authority in this kind of music. We are preparing an opus which is seldom performed on stage - La Fanciulla del West by Puccini, that I think it has never been staged at the Paris Opera and, I also think that it is one of Puccini's masterpieces, having a thrilling orchestration and consonance. I'm looking forward to presenting it to the Paris audience. The producer is Nikolaus Lehnhoff from Germany, and the production is going to be something between traditional and modern. There is a modern atmosphere, but the classical consistency of the opera is held in estimation.

Let's go back to the stage producer Nicolas Joel, who enchanted us with the mounting up of the Oedip opera. We would like you to tell us whether you are interested in contemporary opera.
Yes, I am interested in it because contemporary opera represents contemporary dramaturgy. At the Paris Opera we staged a brand-new work, commissioned, that has the title Akhmatova and it was composed by Bruno Mantovani – a young French composer. I have to admit that I am very interested in contemporary creations.

Thank you, Mr. Nicolas Joel for this interview. Are there any thoughts you would like to communicate to the Romanian audience?
As we are still at the beginning of the year, I wish Radio Romania listeners, a Happy New Year! I have a personal important project and a big wish: to return to Romania and visit it after many years. I wish I could visit the cloisters in Moldavia and other ones, as well. This is my great nostalgia. I love your country very much.
Irina Hasnaº
Translated by Anca-Elena Bãluþ and Elena Daniela Radu
MTTLC, The University of Bucharest