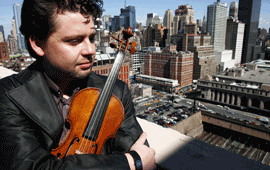 Recital 'In Memoriam' of Mihaela Ursuleasa - at the Vienna Konzerthaus
Friday, 14 February 2014 , ora 8.36

On Wednesday, 12
th
February, 2014, the trio made up of
Julian Rachlin
– violin,
Mischa Maisky
– cello and
Itamar Golan
– piano gave a special recital to commemorate the pianist Mihaela Ursuleasa at the Konzerthaus in Vienna. The profit will go to Stephania Ursuleasa, the late pianist's daughter.

The cellist Julian Rachlin was kind enough to share with us a few details about the event and memories of the late pianist:

Julian Rachlin, last night you gave a recital at the Vienna Konzerthaus with the cellist Mischa Maisky and the pianist Itamar Golan. The event was dedicated to Stephanie Ursuleasa, the daughter of Mihaela Ursuleasa, the pianist who passed away in the summer of 2012. Because this is a benefit concert – what did you hope to obtain and what was the result of yesterday's evening?
We gave this concert in an attempt to help Stephanie receive as large a sum of money as possible, because she is now a child with no parents. This is what we aimed to do as soon as we heard about the tragic death of our dear friend Mihaela Ursuleasa. We do not know yet how much money has been raised, but we were sold out weeks before the event and we hope this concert can help a little. This was, after all, our goal.

... and it is remarkable what you, the late pianist's friends, did. As a matter of fact, other musicians, such as, violinist Patricia Kopatchinskaja, the members of the Belcea Quartet and pianist Fazil Say, have organised such concerts, not only to keep the memory of Mihaela Ursuleasa alive, but also to help her daughter financially. Could you tell us a bit about Stephanie Ursuleasa's life as it is these days?
I know her grandmother is taking care of her, I know Stephanie goes to ballet classes and, insofar as her situation allows it, she has a normal childhood. Well, of course, we cannot really talk about normalcy here, but everyone is trying to support the girl as much as possible; I saw her yesterday and she was absolutely adorable. I am not very close to her grandmother, but it was great to see them again and to notice the girl is beautiful, smart, speaks several languages. All of us who have known and appreciated Mihaela think that it is our duty to help her daughter as she grows up.

Coming back to yesterday's concert – what opuses did you choose for the recital at the Konzerthaus?
We started with Bloch's Prayers – the first for cello and piano, the second for piano and violin – then we said a few words about Mihaela. We told the audience she had been an extraordinary artist and a great personality, that her performances were full of virtuosity and feeling, they were always very deep and touching. We also said that above all of these, to me the most important thing was that Mihaela had been a wonderful being, a very generous lady, with a lot of humour and appetite for life, a lot of energy, and that this energy would shine on. Then we thanked the audience for their presence, because this was how they helped Mihaela's beautiful daughter, Stephanie. And the concert itself was very good, it was a special one. I would like to add that Ioan Holender was among the audience last night, and I found that very touching, a symbolic gesture.

I think the significance of Bloch's Prayers is clear in this context. As for the other opuses you played at the Konzerthaus yesterday evening – were they the compositions that you have played with Mihaela Ursuleasa?
No, we didn't play them with Mihaela. But it is important that both Mischa Maisky and Itamar Golan performed with her. In fact, I was the one who introduced them to each other, because they played together during my Festival.

Are you referring to the Dubrovnik Festival?
Yes, there, too, but it was also in Austria, where I organised a small chamber music festival for five years. But yes, mostly in Dubrovnik.

So you were the first of the yesterday evening's three musicians who played with and met the Romanian artist. Do you remember when and how exactly you met her for the first time?
It was many years ago, when she had just come to Vienna. There were already a lot of people who appreciated her and once, as I was travelling with them by train, they started to talk to me about this wonderful girl who was going to arrive in Vienna. And since Vienna is a music village, everybody knows everybody. It is the capital of music world, but it is very small, so we all know each other. It didn't take long until I met her and we became very good friends. We began to play together in various concerts and projects. She was a wonderful lady.

Do you have a special memory of Mihaela Ursuleasa that you could share with us?
She was a great cook and we had that in common because I like cooking, too, so we had evenings when we made food, invited all our friends, played chamber music for fun until 5 or 6 in the morning. It isn't anything special for me, because we used to do that very often, but it is a lovely memory. I also cherish the free time that I spent with her outside music. Of course, the preparation for the concerts and the playing together were extraordinary experiences, as well.

Thank you for your time and kindness.
Irina Cristina Vasilescu
Translated by Irina Borțoi and Elena Daniela Radu
MTTLC, The University of Bucharest