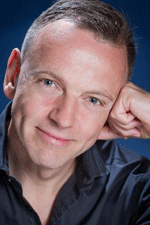 An Interview with the Director Stephen Barlow
Thursday, 20 February 2014 , ora 8.18

The premiere of Verdi's opera
Rigoletto
, directed by Stephen Barlow, takes place at the Bucharest National Opera this evening, on 20
th
February, 2014.

Mr. Stephen Barlow, welcome to Romania. It is a special delight to have you as our guest in Bucharest. Among all the titles you have directed, you have chosen Rigoletto. Why Rigoletto? What is its significance for you?
I am very glad to be here, in Romania, and to work for the Bucharest National Opera, at a time when it seems that an important artistic revolution is taking place. It's impressive to be part of it. Rigoletto is, for me, one of the most important operas, beside Othello and La Traviata. These are Verdi's great masterpieces. What I find fascinating when it comes to Rigoletto is that, unlike Othello or La Traviata, which are both tragic, but with a bright, cathartic ending, in this opera there is no catharsis. It's a somber, bitter and immoral world, where there are no winners. All the characters lose to a certain degree, except the Duke. The negative character escaping punishment is rare in a story. But in Rigoletto he survives. It's really amazing. This was one of the aspects that led me to approach the opera and decide where to set it.

You set the opera in a very interesting historical period for both North America and Europe, i.e. the period after the Second World War, following the economic crisis.
I set this opera in 1929, which represents the last days of the prohibition in the United States of America, where alcohol was forbidden, but it was still sold illegally. The idea of this production came to me when I was directing Rigoletto as well, but in a very traditional manner, in Chicago, last year. Then, the invitation from Bucharest for a new production arrived and I wondered: 'How will I do it?' I looked up and the answer seemed to stare me in the face. Yes, the action will take place in Chicago, during a dark period, in 1929, and the Duke will be a sort of Al Capone, the leader of a murderers' union. I thought this would match the subject of the opera, as it is a world dominated by male characters, a world full of gangsters in an important city, a corrupt city, such as Chicago was at the end of the '20s. On the other hand, it was the dream-city for immigrants. I considered that this type of city and this type of mentality would go together with the opera composed by Verdi and the libretto written by Piave. So, this is the project.

As a director in the 20th century, what are your requests for the artists?
What I ask of them is something I do every day: use our imaginations. And I also ask them to listen to the music. When you work with music very much, you often forget to just stop and listen to it. Many artists focus on intoning each sound, each pause correctly, on reaching perfect harmony with the score, but they forget to listen to the music. During rehearsals, I often ask the pianist to play the score and the singers not to sing, but to just listen to what happens beyond their voice. That is because I think a lot of answers for any production, for any interpretation, can be found in music. As I was saying earlier, we have to use our imaginations. I believe this is the most powerful tool of the interpreters, of the director and of the audience. I like productions which put the fantasy of the audience to the test.

Mr. Stephen Barlow, the team on the stage is made up of different individualities. How do you manage to unite them, to create perfect unity?
I believe that for a director it's very important to inspire his collaborators, to make his vision and his attitude towards the performance very clear. I stand before them and I convince all of them that they are part of the team, with the same vision, whether it's the prima donna, someone who works backstage or a member of the orchestra. Each is part of a great team and I like all of them to feel equal. For example, here, in Romania, I learned the names of all the choir members and I use them when addressing them. As a result, they feel part of the production, even if they are individualities.

Mr. Stephen Barlow, after this stopover in Bucharest, which will be the next production?
My following engagement will take me back to London, where I live and where I'll work on an opera by Puccini, who is my favourite composer. I'll stage an opera that I have never before produced: La Fanciulla del West, an opera that truly takes place in America. I'm looking forward to researching the least-understood score by Puccini. I think it's a masterpiece. On the other hand, I believe that it represents a challenge for every director. I'm looking forward to this new production which will be a stumbling block for me, over the next few months.

Mr. Stephen Barlow, do you have a dream as a director?
If it doesn't sound too commonplace, I live my dream every day. I do what I love. I am inspired by the people I work with, by the material I use. I am very lucky to be in a hall and work with talented people - conductors, set designers - and with the wonderful material which is music, music by Verdi, Puccini and Mozart. I couldn't say that my mission was vital. I wish theatre to be modern, interesting, imaginative, challenging and, last but not least, inspired.
Irina Hasnaș
Translated by Mihaela Olinescu and Elena Daniela Radu
MTTLC, The University of Bucharest