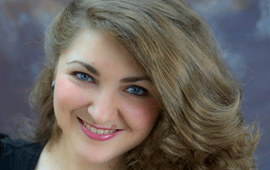 An Interview with Andreea Soare
Wednesday, 26 February 2014 , ora 12.32

Andreea Soare made her first musical appearance at the age of seven years old. She studied piano, violin, guitar and, later on, canto in her native town. She graduated from the Strasburg Regional Conservatory of Music, the class of the canto professor Marie-Madeleine Koebelé. She also received her musicology license in 2008 from the Marc Bloch University at the same time with her studies at the Conservatory in the same town.
In 2008, she was accepted at the Paris Higher National Conservatory of Music and Dance, in the canto class of Professors Isabelle Guillaud, Susan Manoff, Olivier Reboul, Vincent Vittoz, Claude Lavoix, Anne Le Bozec and Keneth Weiss. Three years later, Andreea Soare became a member of the Music Academy of the Paris National Opera.
During the 2013-2014 season, the soprano Andreea Soare will perform various roles under the patronage of the Paris National Opera.

We are very grateful for allowing us to take this interview, Mrs. Andreea Soare. For how long have you been working with the Paris Opera and could you also tell us about some of your projects?
I have been working for the Paris National Opera for three years now. I am the soloist of the music studio at the Paris National Opera. The music studio is an opera studio for young singers at the beginning of their career and my projects, in the near future will include the opera Don Giovanni, which will be performed in March and May in Paris and also a series of concerts by Rameau, as we are celebrating the composer this year.

It seems that you have overreached the audience in France and not only, in such a short time. What is the secret of your singing?
I do not think there is any secret, but in France at least, the voices from Eastern Europe and especially from Romania are very appreciated and I firmly believe that the key is just very good training and the experience gained in time.

We are very impressed by your repertoire. As one can see, there is no lack of Mozart, Offenbach, Bizet, Gounod, Handel, Monteverdi, Lully, Puccini and many other composers. It looks like a passage from baroque to contemporary. What is the universe that you like best?
Yes, but I also wanted to add the composer Britten, and last week I finished with the performances of the opera The Rape of Lucretia, in Paris, together with the music studio. My present universe is Mozart. That is because I am young, it matches very well with my voice and because I feel best while interpreting Mozart's roles, but also Puccini's (Mimi) of course. There are roles that I earn for and which I want to perform on stage as soon as possible.

Which were the most beautiful roles that you performed during these three years with the music studio at the Paris National Opera?
In the first year, I remember we did an opera by Mozart called La Finta Giardiniera and I performed as the lead character, Sandrina. It was an incredible role for me because it has many features, going from soprano, grace-note even, to lyric soprano and I had the opportunity to explore more facets of my voice than ever before. But I also took part in La Resurrezione by Handel, where I performed as Mary Magdalene which is a most interesting role. Last year we did two operas by Haydn, Il Mondo della Luna where I sang as Clarice and in L'isola Disabitata as Sylvia. But even now I think that the most interesting vocally and scenically was The Rape of Lucretia by Britten, where I also sang in the Male Chorus. It was a very long, important and a hard role and the scenography, music and the ensemble that accompanied us were exceptional, which makes me think that it was the most interesting so far.

Has there ever been a vocal personality that influenced your performance's evolution?
I tend to say no because I believe that there wasn't just one person. There would be Angela Gheorghiu as an example because I like her very much. But I also like Renee Flaming and Anna Netrebko. I like female singers for a particular feature of theirs. I don't entirely like only one singer. I do not think I could have only one 'idol', but there are many singers from whom we can learn and get inspired by.

From among your stage co-workers, conductors and singers, has there been a particular schooling, so to say?
I think that the stage is the best school and the music studio is perfect for that because it offered us the opportunity to work with conductors from all over the world and we even performed in Japan, Poland, Germany and many other countries, so that the experience on stage, whether it was in a concert or an opera, it proved to be the best learning tool. Regarding my studies, I graduated from the Paris Higher National Conservatory of Music and Dance, which is an elite school, where out of 195 candidates only five were accepted in the year that I also applied and I finished as valedictorian in 2011. But the music studio is truly a wonderful opportunity for young singers.

Mrs. Andreea Soare, what are your projects for the next seasons? Will you continue to work with the music studio or will you become a freelancer?
In July this year, the music studio period will end for me and starting with July 2014 I will be a freelancer as you have mentioned. Next season I will perform as the prima donna in The Magic Flute at the Paris National Opera. I will also sing as Iphigénie in Iphigénie en Tauride by Gluck, as Agathe in Der Freischütz by Weber, and as Rosalinda in Die Fledermaus by Strauss. I have a few recitals scheduled in Paris, Poland, Switzerland, Monaco and even China.

That is quite an impressing agenda. Thank you very much for this interview and we wish you good luck, Mrs. Andreea Soare.
Thank you once again for the invitation and I hope that one day I will also sing in Romania.
Irina Hasnaș
Translated by Roxana Țicămucă and Elena Daniela Radu
MTTLC, The University of Bucharest