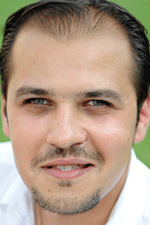 Interview with the Bass Player Adrian Sâmpetrean
Tuesday, 4 March 2014 , ora 9.50

Adrian Sâmpetrean graduated from the ″Gheorghe Dima″ Music Academy in Cluj Napoca, having studied at the Canto class of the bass player Mircea Sâmpetrean. He made his debut in 2006, on the opera stage of his native town. During the 2007-2008 season, he was a member of the Opera Studio of the Bavarian State Opera of Munich. He was invited to perform in opera houses in Bologna, Hamburg, Dusseldorf, Berlin and Monte-Carlo.
He also collaborated with lyrical theatre ensembles from Milan, Palermo, Berlin and Rome. In July 2014, the bass player Adrian Sâmpetrean will be invited to perform in the production The Turk in Italy, as part of the Aix-en-Provence Festival.

Mr Adrian Sâmpetrean, you have been at Monte Carlo for a couple of weeks, to perform in the Love Poison, in a series of four productions - on 21st, 23rd, 26th and 28th February. For the Opéra de Monte-Carlo, and not only, it is a premiere to have all three of you there. Could you please tell us more directing details about these performances?
It is a very pleasant experience for the three of us, to be all distributed in the same production, as this does ′t occur very often and we are very good friends beyond the stage; thanks to this, everything is more diverting both on the stage and during the rehearsals. It wasn′ t a premiere at Monte Carlo, as the performance already existed; if I were to choose, I must admit I couldn′ t have made my debut elsewhere but Dulcamara, in such a pleasant and humorous directing atmosphere: it was indeed an authentic feast. It was a pleasure for me, because it has been a very interesting concert, placed in a very small scale. This way, everybody is reduced to a small scale. The actions are performed next to the wheel of a field engine, and there are oversized wheatears everywhere, as part of the director ′s concept. But it is extremely funny, and the public enjoyed it, as well. Everybody was delighted and so were we.

We should mention that Adriano Sinivia was the director while the conductor was the mezzo soprano Nathalia Stutzmann, on her debut. What was your relationship with the mezzo soprano Nathalia Stutzmann, this time as a conductor?
It was not the first time that I had the pleasure to collaborate with a female conductor; the first time it happened in Hamburg, when I performed La Boehme; we were three Romanian performers – I, Ghita Petean and Angela Gheorghiu - and Simone Young was the conductor; so, this is the second time I am collaborating with a female conductor, but it is the first time that she is a lyrical artist, too. Of course, it was a pleasant collaboration; you can see when a conductor understands the performer′s extravagances, when he is a little tired, when he knows how to approach the situation - when to press the acceleration, and when to stop - and when she considers she managed to create a beautiful performance. It was a nice collaboration, and we are glad to go on with the last two performances. It will be a little sad when everything will end, as it was both an artistically productive period, and a very beautiful one, from the point of view of the interactions between performers. We will keep beautiful memories about it.

Your partner was Mariangela Sicilia, performing Adina. Could you please tell us more details about her?
She was very a nice and pleasant person. She is young, at the beginning of a career which, in my opinion, will be a very beautiful one. All of us evolved with this production, even Stefan and Ghita, who performed in this production inLausanne, as well; but the moment you change your stage partners, the relationships also change, and you adapt yourself to your new partners; we, the three performers, tried to maintain the original lines, but we did this by bringing our own personality, which made Adina do the same. I sincerely enjoyed it very much, because, apart from this well-known aspect, Adina revealed her sensitive part, and I believe that this is the right relationship, because she eventually exhaled her feelings and gave up the mask, surprising the public with the duality of her character; it is a pleasure to see her performing.

Mr Adrian Sâmpetrean, after this stopover in MonteCarlo, what is your future programme?
Beginning on 18th March, in Hamburg, with Edita Gruberova, we will start the rehearsals for Lucrezia Borgia, a performance, in the form of a concerto. There will be a series of three event-concerts. After that, I will come back to the Love Poison, this time in Rome, in May; then in June and July, I will be at the Aix-en-Provence Festival, performing Selim, in the production the Turk in Italy.

Thank you very much and we wish you great success.
I thank you, too and to the listeners, and I wish you all the best.
Elena Hasnaș
Translated by Aida Birghila and Elena Daniela Radu
MTTLC, University of Bucharest