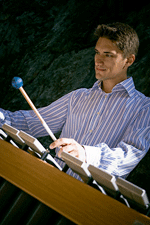 An Interview with the Percussion Player Alexandru Anastasiu
Monday, 10 March 2014 , ora 8.12

Between 10
th
and 15
th
March, 2014, the 'Mihail Jora' Concert Hall of the Romanian Radio Broadcasting Corporation will host the first edition of the
International Percussion Festival
. The poster presents artists from Japan, Taiwan, whom will be joined by the members of the Radio Academic Choir, of the Romanian National Radio Orchestra, as well as soloist instrumental performers from these ensembles. The concerts included in the festival itinerary will be broadcast live or relayed by Radio Romania Music and Radio Romania Culture. The promoter of this project is the instrumental performer (vibraphone) Alexandru Anastasiu.

Mr. Alexandru Anastasiu, a festival of remarkable value will start this evening. As you are so passionate about percussion you will manage to bring together all of your colleagues during this week in an interesting challenge directed at the public. Could you tell us a few words about the first edition of this percussion festival?
Hello and I will indeed wait for your attendance on this challenge. It is an instigation to reunite soloists famous worldwide, such as Emmanuel Sejourne, Ludwig Albert, Chin Cheng Lin and others, as well as ensembles such as Bing Bang from Croatia or Phoenix Reflexion from Japan or Game and the Percution Studio Group from Romania. The Percution Studio Group is actually made out of the Romanian National Radio Orchestra members from the percussion section. Also, I would like to say that both the diversity of the percussion instruments used and the varied repertoire offer these royal percussion concerts an extraordinary variance, from the rhythmical percussion instruments to the well-known percussion instruments with press buttons, marimba and vibraphone, which you will listen to during the concerts performed by the Radio Chamber Orchestra and the Romanian National Radio Orchestra, and during the solo recitals, as well. The concert I will perform, on Friday, together with the Romanian National Radio Orchestra is a special one, particularly because of the orchestration used. It will probably be one of the few opportunities for me to perform, in Romania, a concert composed for the blow orchestra and seven percussion instrumentalists, an opus signed by Jordan Gudefin, an extraordinarily harmonious and melodically concert. Actually, I would like to invite everyone who wishes to listen to us and watch us because during this entire week it will not only be an acoustic performance, but a visual one, as well. We possess a good amount of knowledge on how to use the percussion instruments and the performance techniques for them. As I have said before, it is an invitation to everyone who is in Bucharest and has time to attend and listen to us, because it is an event that only happens once every two years.

It is a festival that you are working on alongside the Vibraphone International Festival.
Yes. And I hope that we will manage to continue to carry through the vibraphone festival as well as the percussion one.
Irina Hasnaș
Translated by Roxana Țicămucă and Elena Daniela Radu
MTTLC, The University of Bucharest