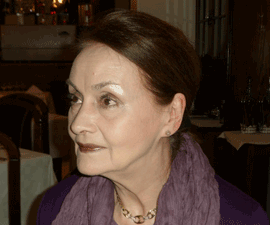 Interview with Soprano Eugenia Moldoveanu
Wednesday, 19 March 2014 , ora 9.42

One of the most important Romanian voices of the 20th century, soprano
Eugenia Moldoveanu
is turning 70 on 19
th
March. Throughout her career, she has been applauded on the stages of some prestigious opera houses such as Il Teatro alla Scala in Milan, the Metropolitan Opera in New York, the Royal Opera House in London and the Vienna State Opera. I had the honour of congratulating and interviewing the soprano on her birthday.

Happy birthday, Mrs. Eugenia Moldoveanu! What are your thoughts on the eve of this beautiful anniversary?
Thank you very much for your greetings and for the attention! I am happy and thrilled, of course and I am experiencing a feeling that I have rarely experienced in my life. I feel like a winner. I think I have been lucky to have attained my 70th year. That is how I see it.

Of all the parts you have performed on the world's greatest stages, is there one in particular that has a quite special meaning to you or that is connected to an important memory?
Fortunately, yes, there is one. In 1973, when I played the part of Cio Cio San and when I was awarded the 1st Prize at the International Madama Butterfly Competition in Nagasaki, Tokyo, where Maria Callas was the President of Honour. That is where I first met her and that encounter was unique and unforgettable. Afterwards, it haunted me for the rest of my life. And I had this great opportunity to get to know not only a famous singer, but one of 20th century's symbols of the universal lyric theatre, as well.

You chose to share your art with not just your audience, but with the students, as well, by teaching canto at the National University of Music in Bucharest. What do you recommend to the young soloists who dream of a successful career?
I always tell them that having a more or less gifted voice does not mean much. Only a complex music education, a permanent bond with music, a soul and mind gymnastics towards music can make you then a musician, or even better, a celebrity. Therefore, aside from the devouring passion one must have for music, the seriousness with which one approaches a musical piece matters very much.

Besides Maria Callas, whose influence you have already spoken of, have there been other personalities who made an impression on you?
I must mention my professors: the great Aurel Bobescu, who opened my eyes about music, about piano and about voice and also my professor Anca Florescu, who taught me and whom I remained a student, if you please, up to the end of her career. I must also mention Hero Lupescu, all the professors from the Conservatory and the great conductors with whom I worked, starting with Riccardo Muti, Claudio Abbado, James Levine and many others. Last but not least, I must make mention of the famous singers with who I was lucky enough to share the stage: Plácido Domingo, José Carreras, Renata Scotto and many others.

Since you have already told us about a special part for you, can you tell us if there is also a stage close to your heart?
Yes, there is a special stage. It is the stage where one's career is defined; that is IL Teatro alla Scala where few singers get and I do not know if it feels good, but it is a career's ultimate challenge, the greatest responsibility and the highest honour.
Andreea Chiselev
Translated by Petronela Morosanu and Elena Daniela Radu
MTTLC, The University of Bucharest