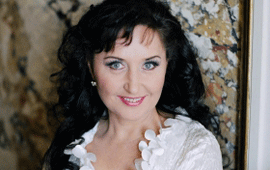 An Interview with the Soprano Elena Moșuc
Tuesday, 25 March 2014 , ora 8.09

The soprano Elena Moșuc was invited by the Teatro Petruzzelli in Bari - Italy for the new production of La traviata by Giuseppe Verdi, a successful debut on this stage.

Mrs. Elena Moșuc, you are in Italy as the guest of the Teatro Petruzzelli in Bari. You are part of the production of La Traviata, where you have the title part, of course. The premiere of this performance took place on Sunday, 23rd March.
It's my first time in Bari and I've had the nice surprise of finding myself in a very beautiful environment, a very pleasant atmosphere when it comes to the relationship with my stage partners. I'm very happy when I get to an opera house where the working atmosphere is really good. This year I have sung in a lot of productions of La Traviata and I can honestly say it has become my favourite role, this as an answer to everybody asking me what role I like best. It's been difficult to decide until now, but I believe that Violetta is the supreme role, after Norma. The atmosphere at rehearsals and during the performances was very nice. The premiere was yesterday evening. It was an amazing success!

The conductor was Daniele Rustioni.
I first met him in 2009, when I sang Lucia in Torino; at the time, he was the assistant of maestro Gianandrea Noseda. I also met him at La Scala, in 2012, with the production of Luisa Miller. And now I've had the joy of working with him. He is young, 30 or 32, and very talented. He knows how to handle the orchestra and the choir. He knows how to accompany the soloists, he breathes at the same rhythm; this is very important and it's not something that one gets with every conductor.

The main cast comprised young artists. Your partner was the tenor Francesco Demuro, singing the part of Alfredo Germont.
I have sung with Francesco Demuro many times: Rigoletto in Zurich, I believe, and La Traviata at the Verona Arena, in 2011, and again La Traviata, in Las Palmas and Gran Canaria, two weeks ago. And here we meet again. He is a young Italian, who has made great progress since our first meeting. I am really glad when I sing beside good colleagues.
I'm very interested in the evolution of a role, as I hate routine. Even now, after 105 performances with La Traviata, I still discover new nuances in this part. La Traviata has become much more profound. Under the current direction of Ferzan Özpetek, a film director, I had the chance to experiment with new things; he had a nice surprise with what I did and he allowed me a lot of freedom. At the first rehearsal, he told me I had a strong personality and he would let me create the role. It is an interesting experience, to work not only with opera or theatre directors, but also with film directors.

On the evening of 23rd March, the premiere of the production La Traviata took place at the Teatro in Bari. Mrs. Elena Moșuc, what was the reaction of the audience?
The audience in Bari had been waiting for me to sing at the Teatro Petruzzelli for a long time. It is a wonderful, very large opera house, with 1,400 seats and a very big stage. The audience paid attention during the performance, enjoyed the arias and the duets, as is normal for La Traviata, but I was very impressed when we got to the final applause because I had the feeling we were on a stadium. There was amazing applause and the orchestra was very enthusiastic; many of the members of the orchestra told me they were really delighted to accompany me, since they couldn't hear that every day. They liked I had class. At the end, when I left the theatre, a lot of persons, including many young people, were waiting for me. I was particularly impressed with two ladies who were crying. They just had tears in their eyes and they said they had never heard such a charismatic, beautiful and impressive Traviata. I was really touched. I even received a lot of messages on Facebook: young people who were at the opera took pictures. They posted their photos on Facebook. I'm happy to hear of such things. Moreover, many appreciated my expressivity in this role; it's a part I really feel, I put my soul into it, my personal experiences and pains.

Mrs. Elena Moșuc, thank you very much for the interview and we wish you the best of luck.
Thank you very much.
Irina Hasnaș
Translated by Mihaela Olinescu and Elena Daniela Radu
MTTLC, The University of Bucharest