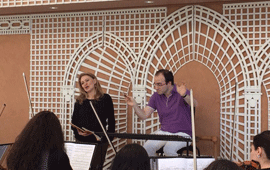 Interview with the Mezzo-soprano Ruxandra Donose
Wednesday, 26 March 2014 , ora 8.15

Ruxandra Donose, the mezzo-soprano who performs in the world's greatest lyric theatre, such as, the Los Angeles Opera, the Royal Opera House Covent Garden in London, the Metropolitan Opera House in New York, the Vienna State Opera and Teatro La Fenice in Venice, was invited to the Al Bustan International Festival of Music and Performing Arts on 23
rd
March, 2014. The famous mezzo-soprano talked to us about this festival and her future stage appearances.

Ruxandra Donose, thank you for agreeing to talk to us about your most recent stage appearance, a concert at the Al Bustan International Festival of Music and Performing Arts. Basically, your performance closed this historical festival.
I was glad to take part in this festival, of which I had heard before; but I was there for the first time and I performed the Nights of Summer song cycle by Berlioz. I was accompanied by the American Youth Orchestra and by Gianluca Marciano, who is the music director of the festival.

How did the public receive this last concert and the festival?
It is a wonderful thing what is happening there. It is a festival which takes place for more than three weeks, day after day, with symphonic music, chamber music, instrumental concerts, recitals...
It is a very complex festival. While looking at this year's music programme, I realized the richness and the variety of the music found there. There is even a hall with all the playbills and programmes of the last 21 years. Extraordinary people were there. One of my idols, the mezzo-soprano Maria Esing performed during the first editions. At the concert in which I performed, the house was packed and the people were extremely enthusiastic about Berlioz's song cycle. Of course, we must consider the fact that Lebanon is a country with French heritage. They were very happy that these songs were performed in French. Although we do not always expect the concert to have the translation of the text, Berlioz's song cycle had on the translation in two languages. We are talking about a festival designed with a lot of love and attention for quality, at the highest level.

After taking part in this festival, what is next on your artistic agenda?
In a few weeks I will travel to London, where I continue performing Berlioz's work. This time I will perform the Death of Cleopatra with the Philharmonic Orchestra conducted by Edward Gardner, at the Royal Festival Hall. From there, I will travel directly to the Royal Opera of Versailles where I will be performing in Tamerlano by Handel. It is the beginning of a presentation tour of this opera, which I recorded last year and which will be launched by Naïve Records at the end of March.
Jeanine Costache
Translated by Diana Ioana Ivan and Elena Daniela Radu
MTTLC, The University of Bucharest