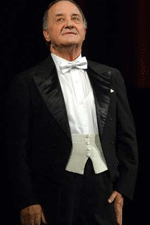 An Interview with Baritone Vasile Martinoiu
Wednesday, 2 April 2014 , ora 10.17

The baritone Vasile Martinoiu was born in Târgu-Jiu, in a musical environment as his grandfather and father were passionate about music. After graduating the musical studies from the Cornetti Coservatoire in Craiova, he made his first appearance at the Galați Opera Theatre in the role of Count di Luna in
the Troubadour
by Verdi in 1959. He won countless international awards which opened the doors to a beautiful and prestigious career. Famous theatres from Europe and the U.S. had him as a guest. His favourite roles are Escamillo, Figaro, Amonasro, Rigoletto, Germont, Count di Luna, Iago, Nabucco and Scarpia. The role which brought him the most praise was Rigoletto.
Today, the baritone Vasile Martinoiu is a generous teacher, and among his students are singers who are perfecting their career across the world.

Mr Martinoiu, we wish you a warm Happy Birthday and we are offering you a large flower bouquet from Radio Romania Music. You have had the opportunity to be carried to the world's greatest stages by your voice, but you have also been a very good and much appreciated soldier on the stage of the Bucharest National Opera. Today, on your anniversary, could you tell us a few words?
Thank you very much. It really is a surprise that the National Radio Station is honouring me with congratulations. The important roles started in 1959, from the Romanian Opera House in Iași and continued to the Galați Opera Theatre and for over 50 years at the Bucharest National Opera. During all of these years, the big roles piled up to tens of them, but you can imagine that my artistic activity in the country and abroad had become extremely intense. If we go in a straight line, from Shanghai, China to Stockholm, Sweden, or from Washington, the U.S. to Moscow, my roles on the important stages of the countries between these parameters were perpetual, sometimes even in successive seasons, in the United States, the Federal Republic of Germany or Holland, for example. I believe that what led me towards this career was the gift for the art of music God endowed me with, although I originally studied theology. Only after some time, did I separate myself and start teaching at the conservatory. The productions in which I performed gave me the honour to have been appreciated by royalty. But one special moment which comes to mind is, when in Holland, after the performance had ended, Queen Beatrice walked on stage and at the end she congratulated every performer, and related to the people I sang with, the list contains absolutely wonderful performers, such as Domingo, Carreras and Montserrat Caballe.

Mr Martinoiu, do you still remember your first performances' excitement, in 1959?
It has been many years since then, but I had faith in my destiny, as it were. I remember that at first I was told that my voice would break because I started off with the Count di Luna in the Troubadour at an extremely young age, barely 24 years old. It scared me a little, but as I had a little experience with singing from my theology studies I took a risk. And I was lucky that my voice came through just fine.

You are known as a Rigoletto reference point, but this is not the only role which represents you. Has there been any other role which you have loved more than Rigoletto?
My entire activity's repertoire contains an estimate of 49 roles, including main characters, of course. Rigoletto was the third which I played at the start of my career. The first one was the Troubadour, as I have told you before, the second one was the Barber-Figaro and the third one was Rigoletto. I could not pass off as a genuine Rigoletto at only 25 years old. You can imagine what a monumental role it is, concerning its artistic maturity, experience no less, as a difficult role to write down and I confess that it is the leading role of my performance array. I played Rigoletto 170 times in various performances in the country, abroad, as a top number of productions and performances. I sang the role of the Barber in 200 performances and the list continues with Nabucco, Aida, Tosca and many others, but Rigoletto was the most complex role.

Nowadays, you are passing on every bit of experience to your students, Mr Vasile Martinoiu. What does this collaboration with the young colleagues mean to you?
I went abroad to study with various teachers, including from the National Academy of St Cecilia and I have realized that a voice needs very careful guidance in the beginning and that certain rules must be kept in order to not lose your voice. I have encountered countless voices, but I have also experienced visible achievements. I can say that I always think fondly about the fact that among the performers of some great theatres in the country, but also abroad, such as, the Vienna State Opera and the Paris Opera there are many of my students which I am happy for.

Mr Martinoiu, we thank you very much and we wish you once again the best and success to your current projects.
Thank you very much.
Irina Hasnaș
Translated by Roxana Țicămucă and Elena Daniela Radu
MTTLC, The University of Bucharest