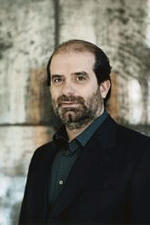 An Interview with the Conductor Andrea Marcon
Thursday, 10 April 2014 , ora 7.58

Conductor, harpsichordist, organist and professor, Andrea Marcon began his music studies in his native town - Treviso (Italy).
In 1997 he founded the Venice Baroque Orchestra, with which he made important recordings, internationally acclaimed. A few of the titles: Vivaldi's Andromeda Liberata, Georg Friederich Händel's Ah! Mio Cor - opera arias with Magdalena Ko¾ená as soloist, Vivaldi's Concertos and Sonatas, together with the violinist Giuliano Carmignola.
Nowadays, Andrea Marcon is considered to be one of the most important interpreters of Baroque music. He has been collaborating with well-known European symphony ensembles.
He has been a professor at the Schola Cantorum Basiliensis since 1997 and starting with 2012, he has been the artistic director of the Ciudad de Granada Orchestra (Spain).

Mr. Andrea Marcon, this evening you'll be conducting important ensembles from Denmark: the Copenhagen Chamber Choir Camerata, the Danish National Concert Choir and the Danish National Concert Orchestra. In the programme - St. Matthew's Passions by Johann Sebastian Bach. What is the significance of this opus for you?
It means a long existence. It is a score which has always accompanied me; I have waited for more than 30-35 years for the courage to conduct it. I could say that I have studied this opus for more than three decades. I have liked Johann Sebastian Bach since I was a child, but I have thought of St. Matthew's Passions as the perfect, ideal opus, and I believed that I would never be able to conduct it. In front of this score, all musicians feel incredibly small; they feel they will never be ready to conduct it. However, last year, after so much time, I decided to accept to conduct St. Matthew's Passions; and I have done it five times, this evening in Copenhagen will be the sixth, which is wonderful. It is a special joy for me. It's an incredible journey you make whenever you interpret this work. It's a moving opus, which impresses both musicians and audience. It's a very special experience to share this work with the audience, with all the listeners.

The 'cast' this evening is a mix of performers from all over Europe, including the three ensembles from Denmark. Is it difficult to get a homogenous style when dealing with such wide cultural variety?
When it comes to Baroque music, so many things have changed over the last 20 years. Back then, in order to find an expert in Baroque sound you had to search for one in Great Britain or the Netherlands. But nowadays there are great changes: this science has spread all over the world and we have a fantastic generation in Europe. There are also young musicians from Japan, Asia, the United States of America and Australia. In terms of composers, the range has changed a lot, too. Johann Sebastian Bach is a composer who is loved in many countries. It's absolutely fantastic to have an international cast. For me, it's important to choose a cast consisting of artists who are connected to the score we interpret. They have to relate to St. Matthew's Passions, to the essence of music, to the story of Jesus. Otherwise, it's very difficult to reveal the true essence of the music. I know the soloists tonight very well, from previous collaborations, and I know they are very close to the core of this music.

Mr. Andrea Marcon, this is your first interview for Radio Romania Music. Would you like to address a message to the Romanian audience?
I would like to emphasize the fact that the collaboration with Romanian musicians has always been fantastic. I have had very gifted students in Basel, in the organ and harpsichord classes. I have discovered that Romanians have the same way of perceiving music as the Italians. We have common roots. It's not only a common intellectual understanding of the music, but we feel the message of the music in the same way. It will be a special evening, auditioning St. Matthew's Passions by Johann Sebastian Bach. There is a dictum about music and the way of creating music, in a book entitled The Book of Chronicles. It's about the music in the temple of David: "If you give something of yourself when you create music, then God is present, with His Grace". This is what I wish to all of you and what I wish to myself, whenever I interpret St. Matthew's Passions, because you have to create music by giving something to others in a profound and humble way, showing respect for the composer and the audience. We should realize that we serve such a score and we have to communicate this to the listeners. I hope that some part of this message also reaches the Romanian audience. I hope that you'll enjoy the concert and the evening.
Irina Hasnaº
Translated by Mihaela Olinescu and Elena Daniela Radu
MTTLC, The University of Bucharest