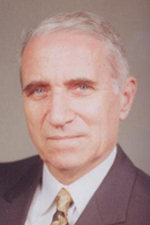 PAUL POPESCU - 85
Sunday, 20 April 2014 , ora 11.41

Born in Râșnov, Paul Popescu graduated from the National University of Music, Bucharest, piano and conducting, under the guidance of Maestro Constantin Silvestri. Then, he perfected his art in Vienna, trained by Professor Hans Swarowski. He made his debut as conductor of the 'Banatul' Philharmonic in Timisoara; he was then employed by the Cinema Orchestra, the National Opera in Bucharest and the Romanian Radio Orchestras and Choirs.
'Significant personality of the Romanian music life, his art is the expression of a remarkable talent, a happy balance between a lively temperament and a rigorous technique'.

Dear maestro Paul Popescu, we wish you Happy birthday! This is, I believe, a day when you can take stock of your life. What is the meaning of your life as conductor and musician alongside great personalities, colleagues who, using their talent, built an important Romanian music life in the second half of the 20th century?
Lots of memories and hard work – I worked hard my whole life as conductor and musician. The Radio is the last institution where I worked and everything that resulted – recordings, concerts – was done with pleasure. I really enjoyed my activity there! The orchestra had reached a very good level when Iosif Conta and I were there (we had also been colleagues at the Conservatory) and we did our best so as the concerts in front of an audience and the recordings be as close to perfection as possible. There are recordings with a series of modern works.
I made a lot of recordings when I came from Timisoara, where I had begun my career, conducting the Philharmonic Orchestra there. I came to Bucharest and worked with film music. I became an expert: I could understand the way that any score had been constructed. I was certain I was doing a good thing: it has been demonstrated that when music film illustrating an interesting story is well recorded is very successful with the audience.

But you continued this series of recordings at the Radio and, more than that, you always had a very close collaboration with the composers. You created thousands of minutes of first auditions and many scores were dedicated to you.
It is true. I enjoyed recording the live concerts, because these recordings are documents. It was in the cinema sector that I did my apprenticeship and learned a lot, because there was no other way; it was a very good school for me, for years. At the Radio everybody was aware of my ability to record. Music film needs very precise durations: 10 seconds, 2 minutes, 2 minutes and 3 seconds. Thus, conducting music film, I sharpened my hearing, which is not an easy thing to do. You are not born with this sense of timing, you have to exercise it. Then I worked at the Opera, with premieres and performances; every work by Wagner that was staged there was conducted by me.
I worked there for many years and we toured all over Europe. The performances in Paris, Berlin, big cities such as Amsterdam, Rome, were very successful; I also conducted foreign orchestras: some – very good, others – not quite. In general, I was able to offer good concerts everywhere and I was invited again. For many years on end, I worked with the Radio's orchestras. After the Opera, when Emanuel Elenescu retired from the Radio, there was a contest and I won it. There, it was very important for me that the collaborators should be at European level and I think I succeeded in making the orchestra very good and much appreciated. I conducted lots of programmes, hundreds of concerts, plus the recordings where I considered myself an expert and I really was an expert.

Dear maestro, you are said to be one of the conductors who feels the story in the music at first sight.
Thank you for the compliment. When I started a concert or a recording, I gave my best. We performed Beethoven's symphonies cycle, all of Tchaikovsky's and Enescu's symphonies in different seasons, dedicating an ample portrait to each composer. And I think this was a very good idea: instrumentalists who worked with me enjoyed it and are still asking me why we don't do it again. Well, that's another story!

Dear maestro, if you were to start over, would you do the same thing, would you choose the same profession?
I would do the exact same thing: it was a struggle – conducting for decades in first-rate, well-known institutions in the country, working with very good professionals, but it brought me satisfactions, because for me, music was a kind of hidden leader that was finally revealed. I was aware of my evolution. I made efforts so that each work performed in a concert – symphony, suite or concerto – could be differentiated in terms of style and genre. I recorded a lot of new music because I enjoyed presenting to the audience many talented and hard-working composers, both older and younger colleagues of mine. I really enjoyed making music. I remember that we were invited at the Radio, recording for days on end, because we wanted to perform contemporary music, talented composers belonging to different generations. I followed these rules during my whole conducting career, of fifty-something years. This was it, in a nutshell.

Dear maestro, we wish you Happy birthday and thank you for everything you did for us and for Romanian music.
It was done with love.
Irina Hasnas
Translated by Mihaela Olinescu and Elena Daniela Radu
MTTLC, The University of Bucharest