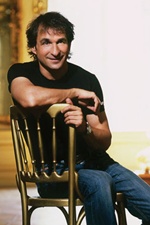 Marco Armiliato Conducting the Great Opera Ensembles of the World
Tuesday, 6 May 2014 , ora 10.44

'Marco Armiliato possesses two important qualities that are essential to a good maestro - the desire to serve the composer and a great love of artists.' -
Scott Rose
Marco Armiliato's study habits are impeccable.
'As soon as possible, I learn by heart the scores I am to interpret' -
Marco Armiliato confesses -
'then I put them away for a while, always thinking about them, however, and then returning to them as rehearsal dates get closer. Given my very busy schedule, when I conduct some works again, the study is done on the plane. If you really wish to be a good opera conductor, you must have at least 20 opuses ready…I love moments of spontaneous magic.'
The repertory of conductor Marco Armiliato is extremely vast and diverse, from classical to contemporary opuses. For more than 12 seasons he has been the permanent guest of the Metropolitan Opera House in New York. These days, Marco Armiliato is at the State Opera in Munich, where he is conducting
La Bohème.
The second cast includes five young Romanians: Anita Hartig, Laura Tătulescu, Teodor Ilincăi, Levente Molnar and Leonard Bernard.
Mr. Marco Armiliato, thank you for welcoming us in your 'laboratory', that is the place where you prepare all your performances on the stages of the opera houses. But all things have a beginning. How was this start for you? How did you fall in love with music?
There is a very simple answer. I did not choose music; it was music that chose me. I started playing the piano when I was very young, I can't even remember, I think I was 2-3 years old. This was an opportunity, because my father loved classical music, opera. He rented a piano so that my brother and I could study. Everything went as smooth as possible. I soon began to enjoy classical music, then opera, then singing…everything happened as if in a fairy tale.
Which was the first opera you conducted?
The first was
The Elixir of Love
in South America, but the first opera in which I sang - I was a member in a children's choir - was
Werther
in Genoa. It was a wonderful experience; on the stage - the tenor Alfredo Krauss and a Romanian mezzo-soprano, Viorica Cortez, an amazing voice of those times. During the first act I sang in the choir. That was the moment when I fell in love with the universe of the opera; it was a truly fantastic experience.
In your career you have met a lot of persons and personalities from all over the world. Are there some who are really important in your artistic endeavour?
There were many persons who supported me and helped me start this beautiful life. But the person who supported me most was Luciano Pavarotti; he was quite special. He was like a second father to me. He took me to the most beautiful places, opening a lot of doors to me. I will always be grateful to him.
Mr. Marco Armiliato, what do you do when you are requested to conduct a score which is first audition?
In general, first of all I read the libretto and I try to understand it in connection to the music. When I have a text, I try to read the short story or the novel that the libretto was based on, attempting to get an idea about what the opera might signify. At the same time, I try to find the solution for some musical issues, to discover some unusual orchestra sounds. When I manage to reunite all the components on a stage for the first time, there are magical and unique moments. Everybody is scared, because they do not know what will happen, how it will sound. Nobody knows the work! At the first rehearsal everybody is worried - singers, interpreters. This comes from the respect we have for the score and for art in general. The moments when you work on a premiere are magical because you have to coordinate everything and set it on the right path.
But when it comes to a classical score, how do you 'build' the performance?
It depends. If it's a new production, you go to the director and find out his conception, and then, based on that, you study the possibilities of the orchestra to adapt to it, you try to imagine the music during the performance and you choose the best options. It's like building a castle, really fascinating.
Let's assume that you are invited to an opera house and the cast is rather modest. How do you react?
In general, I close my eyes and listen to the music. This is my reaction. When I disagree with something happening on the stage or something bores me or doesn't suit my ideas, I try not to get too involved and to make music, because music will never fail us and is our best friend.

Another significant feature of your career is to discover new talents and get them involved in international projects.
When a conductor wanders around the world doing his job, discovery is not difficult. You always meet new voices, new musicians and new talents. They come to auditions. 80% of them might not be interesting, but 20% might have beautiful voices, a very good technique, a special style, a high artistic level; they can be really special. You can come across young people such as Juan Diego Flórez, Anna Netrebko, Piotr Beczala. It was captivating when I first listened to them. They will definitely be superstars, I said to myself! For me it is important to work with young artists and then launch them, for an international career.
You are a very kind and generous godfather to young interpreters. Returning to the subject of Marco Armiliato, to the moments when he wants to listen to music for himself. What genre of music do you listen to?
I am not necessarily a loyal of classical music, of the opera. I listen to these genres not only because they represent my profession, but because I enjoy them. I am open to any musical genre. I listen to rock, anything at all. The problem of the listener is of knowing what he hears. You can listen to classical music or pop, but the important thing is to understand that classical music is different from pop or other genres. Music is music and you have to enjoy it every second. Focusing on just one style seems restrictive. I prefer people with an ample vision, who listen to all genres and know what they listen to, understand its substance. Of course, a dramatic symphony will never be the same with a folk or pop song or anything else belonging to entertainment. You need to open the 'windows' of your soul and of your mind wide open.
Mr. Marco Armiliato, after these performances with La Sonnambula here at the Met, what comes next?
My agenda is full, as usual. After
La Sonnambula
, I will have
Madama Butterfly
here, in New York, as well. At the end of April I'll go to Munich for
La Bohème
and
Rigoletto
; then, I'll be in Zurich for a new production with
La Fanciulla del West
. I'll go on a European tour with concerts, together with Anna Netrebko - there will be Paris, Barcelona, London and Lucerne. In the summer I'll be at the Verona Arena with
Madama Butterfly
and many, many others. Thank God that I am so busy and that I live in this wonderful world.
Beside music, what makes you happy?
Meeting my friends, talking to people. I like playing football, a typically-Italian game. Spending time with my family, relaxing when I am not at rehearsals or in an opera house.

Mr. Marco Armiliato, would you like to come to Romania?
I would really like it, because Romania is the first country I visited as a young man, in 1989, when I conducted a concert in Timisoara. Many, many years have passed since that moment.
Irina Hasnaș
Translated by Mihaela Olinescu and Elena Daniela Radu
MTTLC, The University of Bucharest