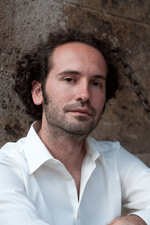 An Interview with the Violist Răzvan Popovici
Wednesday, 7 May 2014 , ora 11.39

During 30
th
March-6
th
April, 2014 the eighth edition of
SoNoRo Interferențe
takes place in Italy. The project was initiated by the violist Răzvan Popovici. Young musicians will participate in an intense artistic dialogue for a week.

Mr. Răzvan Popovici, with stubbornness, but also with a lot of dedication, you launched a project many years ago. It's the SoNoRo Festival, where a lot of young people are involved. And to this project you added another one - SoNoRo Interferențe.
SoNoRo Interferențe
has reached its eighth edition; it began in the second year of SoNoRo. We thought it would be nice to give something back to talented young people from Romania, a little of what we learned during our longer lives; so, this was how this adventure was born, of interferences between Romanian young musicians and great artists from all over Europe.

It's a dialogue between different generations. Under the caption "interferences", there are workshops taking place.
Following the auditions, the selections we conduct in the big cities, especially in the Conservatories in Romania, we offer 30-40 grants, their number depending every year on the level of the applicants. The selected candidates are invited to these workshops which take place in several places in Romania and also in several countries in Europe. The latter has happened for a few years, as we thought it would be a good way to work with the students. I think that it's important to get them out of their native environment and what they learn from this experience, distancing themselves a little, is tenfold.

On Sunday, 30th March, and on Sunday, 6th April, you'll be at the Palazzo Ricci in Montepulciano.
Palazzo Ricci is a European Academy, actually a German project linked to the Conservatory of Music in Cologne, Germany. It's a perfect public-private partnership: a foreign entity, the Conservatory in Cologne in this case, took up the lease of an impressive palazzo located in the Piazza Grande of Montepulciano, in a partnership with the local authorities, renovated it, invested, and turned it into a great music academy. Our collaboration with them began six years ago and it's amazing; for six years we have been bringing groups of SoNoRo Interferențe students here, at Palazzo Ricci. One of the final concerts took place two days ago, in Grande Salon, a princely salon, extremely impressive; the music we play really fits this kind of venue. There are four maestros. The audience in Romania knows the pianist Diana Ketler, from London; we have collaborated with her since the beginnings of the festival. There is also Alissa Margulis, the Russian-German violinist, who is a professor at the Conservatory in Brussels. Alexander Bouzlov is a guest, for the first time. He's an amazing Russian cellist, who became a professor at the Conservatory in Moscow, although he is under 30. I am responsible for the two violists. There are eight grant recipients, two for each instrument, so we continue to work with elites. The number is not important; it's not quantity that matters, but quality.

What works did you include in the repertory?
This time we chose a romantic programme: Schumann's
Piano Quintet
, Brahms'
Piano Quintet
– the Cluj quartet (four grant recipients), playing together with Diana Ketler, the first part of Dvorak's
Quintet
;
at the end, in Rezzo, for the second concert, we played Tchaikovsky's
Souvenir de Florence
.
Has the audience in Montepulciano grown accustomed to this type of event? Do they come to your concerts?
Yes, of course. We shouldn't forget that Montepulciano is an extremely important place on the map of European music, because Hans Werner Henze, the well-known German composer who passed away a few years ago, created here the great Cantiere Festival of Montepulciano. This festival which has been taking place for 20 or 30 years, if I'm not mistaken, brings together hundreds of artists from the entire world every year. Moreover, Palazzo Ricci organizes classes and workshops the entire year. We could say that the audience in Montepulciano is really spoiled as it can enjoy classical music all the time.
Irina Hasnaș
Translated by Mihaela Olinescu and Elena Daniela Radu
MTTLC, The University of Bucharest