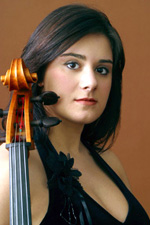 An Interview with the Cellist Laura Buruiană
Thursday, 8 May 2014 , ora 9.40

This evening, Radio Romania Music, in collaboration with the Cotroceni National Museum, presents the audience a recital given by the cellist Laura Buruiană and the pianist Ferenc Vizi. The two interpreters recorded an album with opuses composed by Felix Mendelssohn, Claude Debussy, Gabriel Faure and George Enescu, an album which was considered the best classical album of 2013, as voted by the listeners of Radio Romania Music. The careers of the two artists are impressive and to them, the universe of chamber music is emblematic.

Laura Buruiană, this evening you'll be giving a recital together with Ferenc Vizi at the Cotroceni National Museum. This recital is actually the 'crown' of the 'Vote for the Best Classical Album of 2013' competition. You are the winners. What is the significance of this album for Laura Buruiană and Ferenc Vizi?
It is very important to us. It is our first album and for me it is perhaps the best album I have recorded so far, beside the album with Matei Varga, comprising Brahms'
Sonatas.
It means a lot to me, because I really love Ferenc. I believe he is an extraordinary person and we have a very good collaboration. That is why I was very glad when I received the offer of recording this album together and I hope it's only the first in a long row.

The album includes works by Felix Mendelssohn, Gabriel Faure, Claude Debussy and George Enescu; French music is the dominant feature.
I usually interpret Romanian music, and also German, but the previous albums do not comprise works by Enescu and Brahms. A month from now I'll be launching a new album, this time with Romanian and Russian music: Shostakovich and Prokofiev's
Sonatas
and also Enescu's
Sonata
which is very dear to us, with Alexandra Silocea playing the piano. In a way, I travel between Germany, Romania, Russia and, of course, France.


However, this time you have chosen the French musical space.
Yes, it is true, especially for the recital. The recital is Franco-Romanian-German. It will consist of works by Mendelssohn, Enescu, Debussy and Faure.

Laura Buruiană, I believe that the musical creations belonging to the 19th century or the beginning of the 20th century are the ones that suit you best.
Yes, it is true that Romantic and modern music suit me best, but I must say that I have started playing the viola da gamba and the baroque cello. I am very close to Baroque and classical music. As a matter of fact, the album I am to launch in September, with Bach's
Suites
for modern cello and baroque cello, represents something different from what I have done until now.

What did these new forays into the universe of classical and Baroque music bring to your interpretation of Romantic and modern music?
All these periods are very interesting, whether taken separately or together. Starting to play on baroque instruments helped me understand the music of that era, because no matter how much my professors tried to teach me to play without the vibrato, it wasn't until I used a baroque instrument that I really understood what they meant. I think it is very important that we try to play music from as different periods as possible. And equally important is that we play a lot of contemporary music, because this is the world we live in and we have to practically play it, we cannot be stuck in the previous periods.

Starting with September 2014, you'll be adding a new field to your artistic activity – pedagogy. What do you think this will bring you?
I have always loved teaching. For that matter, before going to Paris I was Associate Professor at the National University of Music in Bucharest for a year and leaving was difficult, but I chose France. There are more exams than I would have thought. For them it is not very important if you have a doctorate, they don't really know what a doctorate means. Finally, this year I have managed to obtain tenure at the Conservatory in Brest. That is why, starting with September, I'll have to travel between Paris and Brest for a year and after that, I assume I'll move there.

Laura Buruiană, thank you very much and we are looking forward to your recital with Ferenc Vizi at the Cotroceni National Museum this evening. We wish you good luck!
Thank you.
Irina Hasnaș
Translated by Mihaela Olinescu and Elena Daniela Radu
MTTLC, The University of Bucharest