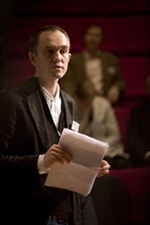 An Interview with the British Opera Director John Fulljames
Tuesday, 13 May 2014 , ora 8.57

John Fulljames is a well-known British opera director. In 2011 he was appointed to the position of Associate Director for the Royal Opera House in London. He graduated from the University of Cambridge - Physics; he lived and worked in Birmingham and Kenya. In 1997 he founded the Opera Group, a studio dedicated to young musicians.
The Telegraph stated that 'John Fulljames has become one of the most interesting opera directors, bringing a new spirit and a new vocation to this traditional genre'.

Mr. Fulljames, we are very honoured that you are our host for this interview. We know a lot of fantastic stories about the Royal Opera House. What does this institution mean to you?
The Royal Opera House is the place where we have dialogues with the city, with the world-wide audience, the venue where the listeners come to be touched, fascinated by this extraordinary art form which is opera, combining music, text, image and motion. And opera achieves, perhaps, something that no other art form does: it brings together very different areas. These can move you, but they also represent a challenge to the spirit. Opera is a form of art with a history spanning for more than five centuries in Europe and reflecting the history of the continent. Opera performances offer us the chance to see what we were and what we are nowadays.

Do you believe in the future of the opera as a complex performance?
For me, opera is an art form that makes me feel alive. Here, in London, we have an audience which is very enthusiastic about performances, a lot of which are sold out. In order to reveal new ways of interpreting the classical repertory, we rewrite, we renew the old productions, something very important to every company. Every year, our studio includes 6-8 new titles that we produce and the following year, one of them will be performed on the big stage. We commission works to the best contemporary composers, writers and directors.

Mr. Fulljames, beside the administrative position, you are also a director. What are your projects?
I have several projects. Next year I will go to France with the opera La Clemenza di Tito by Mozart, then to Germany with Bohuslav Martinù's opus - Juliet, and here, in London, I will stage a contemporary work signed by Luca Francesconi and entitled Quartett, based on Heiner Müller's novel. My dream is to stage Wagner's tetralogy, this beautiful epopee that recounts the grandeur and decline of a civilization, supported by music full of emotion.

Doing my research on your biography, I have discovered that the dialogue with the younger generations represents an important part of your activity. How does this activity come into effect?
My relationship with young people focuses on two aspects. First of all, we consider them an interested audience - I believe that it is very important to educate our audience from a very early age by promoting a high artistic level. Next year we will interpret works for an audience with ages between 2 and 5. We have a new opera this season, a work which was commissioned for children between 8 and 12. It is the young audiences that have to be educated. Secondly, the Royal Opera House is a centre where young talents are trained. Of course, part of the activity is dedicated to new productions, but we also focus on future artists. With everything we do, we think how to develop new hopes, how to motivate them to do something which they have never done before.

Studying carefully all the compartments of the opera, we realize that they are reunited into the same project to reveal the essence of the opera. But which are the most important areas today?
One of them is digitalization. We live in this universe where we are used to receive information, images, digitalized content and, of course, opera is no exception. It is important that we have live streaming on the internet and then distribution in the cinema network. I am very proud that the performances at the Royal Opera House can be watched in Romania. On 18th December there was the broadcast of Parsifal, Wagner's last important opera. If we want to be an international opera house, we need to have a worldwide audience.

Digitalization is very important in today's world. Mr. Fulljames, how would you define London opera's audience?
Of course, it is a very special experience. It is something interesting to watch the performance in a cinema, but it is completely different when you are in the hall, near the protagonists. Our audience is passionate and dedicated, and in London, which is an important cultural city, we have a loyal audience. As mentioned before, performances are sold out, and the audience is always increasing, which represents a challenge for the general director and for me. We want to bring more voices from Europe, carry the audience on our music adventure and establish a more intense dialogue with our spectators.

Mr. Fulljames, getting back to the subject of your career, which kind of direction is most appropriate to a certain opus, a classical one, let's say? How do you construct the direction of a performance? What are the steps you propose?
I believe that the director's mission is to serve the text, the music and the words, to really understand what the authors wanted to express. Composing opera - and I know this because I work with composers - requests so much dedication, life and soul. This is not something that can be done by imitation. You always need to have something to communicate. I believe that the director has to understand the context in which the author wrote the opera and to reveal this substance in order to be transmitted to the audience. I mentioned that I would stage La Clemenza di Tito by Mozart next year. This opera represents a study of what it means to rule a country and of the political impact that personal emotions have on the people. It seems an extremely contemporary issue. For the director, the challenge is to manage to validate ideas belonging to the 18th century for the 21st century, to find a way to articulate all these using modern concepts. Nowadays we read, we decipher art in a very complex manner, our points of reference are so far-reaching. However, we have to take into account all the existing benchmarks when we stage a production.

It is true you need to peruse the text and the music, but there is nowadays a new current in direction: there are some who seem to want to be more contemporary than the 21st century, place themselves outside the text somehow. Does this attitude agree with your personality?
This is an interesting question. I - and I think this reflects the strong British tradition - believe in narrative. I think you go to the theatre to see and listen to stories. You go to the theatre in order to be moved. We do not go there for a purely intellectual story. For me, it is important that the performance should work on several levels. The story has to be clarified, so that the audience can watch it without any aggression or stress. The risk is to make it impossible to understand for the larger audience, and opera fascinates very different spectators. At a performance, someone who sees Parsifal by Wagner for the first time can sit next to someone who has already seen it dozens of times, but for both of them the experience has to be an interesting one. To this purpose, the production needs to be open and even an audience of non-connoisseurs has to be able to understand it.

What is more important for an opera director: a good score, a well-known conductor or an exceptional cast?
The reason why opera is so complex is precisely because you need all of them. Opera works only when theatre and music go together well. The conductor and the director need to have a good collaboration. The singers have to be talented and suited for the roles; apart from singing well, they have to truly build the story. A brilliant art director is necessary. I believe that all the members of the team have to row in the same direction, to have coherence. To perform an opera, everyone needs to be precise, to be aware that they are part of the same team and they tell the same story. In the end, I can say that this is the mission of a director - to ease things up, to make possible that all the members of the team have a very good cooperation.

Mr. Fulljames, at the end of our interview, would you like to address a message to the Romanian audience?
I think it is important that we fight together for the place of culture in our society. I do not know how things are in Romania, but in Great Britain we experience a decline of culture, given that artistic education is no longer a subject in schools, and there is the danger of educating a generation that will be separated from culture, from civilization. I believe it is important that operas such as the Royal Opera House in London and those in Romania should collaborate and employ young people, come up with projects which will change their lives.
Irina Hasnaș
Translated by Mihaela Olinescu and Elena Daniela Radu
MTTLC, The University of Bucharest