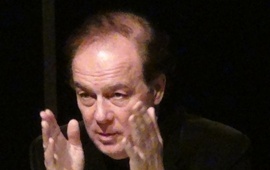 'Take the island of music with you, make it your own, and the world will be better' - Ferruccio Furlanetto
Friday, 16 May 2014 , ora 11.37

Ferruccio Furlanetto, a well-known bass, is considered to be one of the singers with the most durable careers in the world. The entire specialized media remarks upon the range of his repertory, his brilliant voice and his amazing acting skills.
His impressive international artistic career started with the role of King Philip in the opera Don Carlo by Giuseppe Verdi at the Salzburg Easter Festival, under the baton of Herbert von Karajan, in 1986. This debut was preceded by other performances on Italian stages, in sundry roles, either supporting or leading ones.
'Ferruccio Furlanetto… an ideal combination of vocal heft and dramatic commitment' - New York Post, 2012

Mr. Ferruccio Furlanetto, thank you for accepting to grant us this exclusive interview. You are a guest of Radio Romania for the first time.
It seems that this is the year of my debuts, the first time in Canada, the first time in Napoli, and the first time on Radio Romania.

Mr. Furlanetto, did you choose music or did music choose you?
I was born with a good voice. I was only 4-5 years old and I used to sing almost all the time. My great-grandfather taught me to sing, for his pleasure, not mine, as a tenor, because I had a high timbre. When I was a child, I did not have a soprano's voice, but a tenor timbre. I grew up knowing I had a voice and singing most of the time. The magic moment happened in my teenage years. I was into pop music; it was the middle of the '60s, when the Beatles, the Rolling Stones and other bands of the period launched albums with beautiful songs almost every week. I also had a band, together with my brother and two friends; we covered those songs. I was the lead guitar and the main vocalist. At the same time, I was studying humanities at Liceo Classico, where I had classes of Greek, Latin, and philosophy - a wonderful school that represented the foundations of my profile. At a certain point I had got tired of pop music, but still, I launched two albums singing this kind of music and a few TV shows. I had begun to know a few of the secrets of this universe, but I no longer felt comfortable there. I decided to finalize my studies in a different field - forest engineer, because I really enjoyed nature and I wanted to continue in this direction. But, at a certain point - I was 21 - an aunt who was flirting with opera suggested I should take up canto. I hardly knew anything about opera, because I was totally involved in pop music. However, I knew I had to do something with my voice, because it was a gift and I had to try to make the most of it. So, I went to see the great maestro Ettore Campogalliani in Mantua. He was an amazing teacher. He taught great artists such as Luciano Pavarotti, Renata Scotto, Mirella Freni and Piero Cappuccilli. He was a genius and I was immediately fascinated by the world of classical music. After six months, I participated in my first competition and I got an award. A year after that, I was on the stage of a small theatre near Vicenza, with the role of Sparafucile in Rigoletto. A few months later, I was invited by the Opera in Trieste for La Bohème, with an amazing cast - the young, at that time, tenor José Carreras, the soprano Montserrat Caballé…then, things went smoothly. My career had an easy course, because for the first five years I remained in Italy, interpreting different parts, but not leading ones, because I did not want to get too much exposure too early. Thus, I had enough time to evolve, to develop without being confronted with risky experiences. After that period, I made my debut at La Scala, with the role Banquo in Macbeth, with Claudio Abbado and Giorgio Strehler as director, and a cast including Piero Cappuccilli and Shirley Verrett. A few years later there was the debut in New York, with the part of the Grand Inquisitor in Don Carlo, and so on. My career continued step by step, reaching the targets I had set for myself. There were the years when I worked with Herbert von Karajan in Salzburg the wonderful Don Giovanni, then the collaboration with Patrice Chereau and Daniel Barenboim. It was a beautiful beginning and everything that followed was equally amazing.

Mr. Furlanetto, thank you very much for accepting to join us. In the end, would you like to address a message to the Romanian audience?
The first thing I want is that one day I come to you, to know you personally and to participate in a performance in front of the Romanian audience. I had a lot of colleagues from your country and they are wonderful people. I am sure it would be fantastic to be there. I truly wish I had this opportunity, maybe while it is not too late. In Don Quixote there is an extraordinary message at the end of the opera - Don Quixote takes Sancho Panza's hand, places it on his heart and tells him: 'Please…I couldn't give you castles, lands, not even the island I had promised. But, please, take the island of my poetry, the island of my kindness, the island of music and carry it with you, wherever you go.' My message is the following: 'Take the island of music with you, make it your own, and the world will be better.'
Irina Hasnaº
Translated by Mihaela Olinescu and Elena Daniela Radu
MTTLC, The University of Bucharest