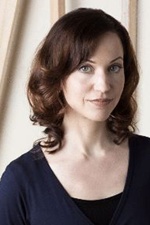 An Interview with Jennifer Dautermann, the Director of Classical: NEXT
Wednesday, 14 May 2014 , ora 16.15

Between 14
th
and 17
th
May, 2014, Vienna is hosting the third edition of the Classical Music Festival entitled Classical: NEXT, an event which is unique in the world. This truly international reunion is dedicated to classical music and musical art and brings together all the areas of classical music; it promotes all types of events, from traditional ones to those experimental, niche events. One of the objectives is to create a platform for everyone and anyone.
Classical: NEXT consists of three sections:
-exhibition under the form of a trade fair for professionals, where networking is essential
-conferences on a wide range of topics
-mini-recitals given by prestigious interpreters of the world
An Interview with Jennifer Dautermann, the Director of Classical: NEXT
Dear Mrs. Jennifer Dautermann, here is a dream come true: a dream which was born four years ago and which now has turned into the reality of a unique international reunion of those involved in classical music. This year, Classical: NEXT will take place in Vienna, between 14th and 17th May. What does this third edition bring new?
For this edition we continue to develop and consolidate the progress we made in the first two editions. Things seem to go very well. This year the programme of the conferences is much richer. We have an amazing number of topics received from the professional communities in the entire world. The jury had a very difficult task when it came to choosing out of this offer, so we were forced to extend the programme. There were so many extraordinary materials, that it would have been a pity not to include them.
With each new edition, Classical: NEXT becomes more and more visible in the contemporary international artistic landscape. More and more people have started to hear of Classical: NEXT and they think it is a very useful event, because they can connect to a lot of persons, in one place, at the same time. This fair means new partnerships, new contracts and collaborations, new business. It is very good for them to meet so many people at the same time, in a limited space.
It seems that Vienna will be the hub of classical music for four days. How will this project make its debut?
This year we will start two days earlier. However, as usual, we will begin our reunion with a concert. This will happen on 14
th
May. The opening concert will be given by a fantastic group from Luxemburg, which will take us from the Baroque to the contemporary, and we will also enjoy the presence of an important personality - the baritone Thomas Hampson. We will open Classical: NEXT at 15:00, because there was huge demand from all the participants to have more time for meetings, for connections, for business and prospection.
Every evening there will be concerts in different venues from Vienna, given by different ensembles.
There will be countless events, but on Monday, 12
th
May, an extraordinary event will take place: a concert where lights and music will blend, a kind of flashmob that will happen at a shopping mall, right next to our venue, at 18:00. We are looking forward to the reaction of the audience that will suddenly be surrounded by music and lights. This will be an interesting concert. Then, we will have the events included in the agenda, with combined programmes, short recitals for a mixed audience. For me, personally, Powerplant - a percussionist from Great Britain - will be one of the attractions. He creates high-quality performances, combining sound and light.
Mrs. Jennifer Dautermann, how did the Viennese audience receive this event last year?
They began by taking notes. I must emphasize the fact that this fair - Classical: NEXT - is rather dedicated to professionals. The purpose of our activity is to bring professionals together. The amateur audience can take notes, can participate in certain activities. We hope that this year we will reach a higher number of participants, especially through this flashmob which will take place at the mall. There will be other manifestations as well, which will occur during the fair, in and outside of Vienna. We have some films that might attract a wider audience. The protagonists are two personalities. One of them is Valery Gergiev - a star-conductor who has raised some controversy lately; he is compared to Freddie Mercury, member of Queen, who wanted to become an opera singer. These are the two films about the two personalities, containing some less well-known information about their musical aspirations. I have to point out that in Vienna we have a Queen fan club, with an impressive number of members.
Mrs. Jennifer Dautermann, you are the initiator of this project, entitled Classical: NEXT. What are your hopes regarding this third edition?
I hope this third edition will have a higher professional level and will prove how profitable this reunion is. By being together and working together, we can accomplish much more than each one on his own, in his country, carrying out his mission individually.
Irina Hasnaș
Translated by Mihaela Olinescu and Elena Daniela Radu
MTTLC, The University of Bucharest