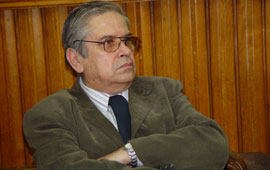 Interview with Musicologist and Professor Grigore Constantinescu
Thursday, 15 May 2014 , ora 9.01

The "Ionel Perlea" UNESCO Cultural Centre in Slobozia is hosting a new edition of the Lied Festival and Competition, dedicated to the artist who was born in Ograda. The achievements of the competition are impressive – many young people have been present at this intense dialogue between music and verse. The jury consists of personalities – canto professors from around the country and also laureates of this competition. The president and initiator of this event are musicologist and Professor Grigore Constantinescu.

Professor Grigore Constantinescu, this week, on 16th May, a new edition of the "Ionel Perlea" Competition and Festival starts. With intransigence and a lot of devotion, you have managed to organise this year's edition. How many have there been so far?
It is true, we are now very excited about the 23rd edition of the National Festival and Competition of Lied Interpretation hosted by the town of Slobozia, at the "Ionel Perlea" UNESCO Cultural Centre headquarters. It is an event we have indeed prepared the entire year and which now becomes a sort of a fire ball that concentrates the art of national and international chamber music.

Which is the mandatory lied in this edition? Very many Romanian composers participate in this competition.
This year, we have invited composer Horia Șurianu, who has offered us three versions of his lieder, for deep, medium and high voices, composed especially for this edition of the "Ionel Perlea" Competition based on Mihai Eminescu's poems.

Professor, how many candidates have signed up for the competition?
We have 30 participants from all around the country: Bucharest, Cluj, Timișoara, Iași, Constanța and Brașov.

Who are this edition's jury members?
The jury consists of maestros who train young people and who also represent cultural centres and music universities in the country. From Bucharest, I would like to mention Maria Slătinaru Nistor, Ionel Voineag, Bianca Manoleanu and Claudia Codreanu – the first laureate of the first edition. From Constanța, we have the Head of the Canto Department – Dana Chifu; from Cluj, the canto teacher Ana Rusu; from Iași, soprano Cristina Simionescu – teacher at the "George Enescu" University; from Constanța, Florența Marinescu – "Ovidius" University. We have tried all the time to bring together the best of the young generation, who we are having their debut here.

Of course, there will be the usual recitals; in fact, a maestro-disciple dialogue.
Yes, it's a maestro-disciple dialogue, which this year, as over the last years, is based on the realities of the Romanian art of performing chamber music. Cristina Simionescu will perform scores by composers from Iași and Dana Chifu will present works of composers from Timișoara and Banat. We also have two UNESCO anniversaries – Modest Petrovich Mussorgsky. The Children's Room cycle will be performed, in a version offered by Claudia Codreanu. There will also be two recitals celebrating Richard Strauss' 150th anniversary; the cycles will be performed by the mezzo-soprano Oana Andra and the soprano Bianca Manoleanu, each of them with their personal accompanist – Alexandru Petrovici with Oana Andra and Remus Manoleanu with Bianca Manoleanu.

Professor Grigore Constantinescu, thank you and good luck!
Thank you for this wish! I am glad and I thank the Romanian Radio Broadcasting Corporation for having been with us for 23 editions.
Irina Hasnaș
Translated by Anca Gheorghiu and Elena Daniela Radu
MTTLC, The University of Bucharest