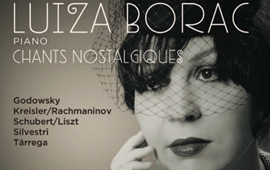 'Chants Nostalgiques' - a New Album Launched by Luiza Borac
Tuesday, 1 July 2014 , ora 10.26

The pianist Luiza Borac launched her latest album by means of two recitals hosted by Steinway Hall and the Church St. Martin in the Fields in London, on 26th and 27th June. Luiza Borac granted us an interview, with information regarding the programme of this album, as well as details on the works recorded.

You have recently launched a new album, with a very interesting playlist and many premieres. What was the spark of this project?
This project is entitled 'Chants Nostalgiques' and was inspired by the music of a great Romanian conductor and composer, Constantin Silvestri, a composer who is well-known in Romania, but less so abroad, renowned and loved in England, where he conducted the Bournemouth Philharmonic, the London Philharmonic and the Philharmonia Orchestra for years. He was a very appreciated and celebrated musician in Great Britain. Only few people know that he also composed, he was this multivalent kind of talent, and his compositions are incredibly beautiful. He also composed many works for the piano. Out of these, we chose Chants Nostalgiques, with the original title Songs of Desolation, op. 27. This term, chants nostalgiques, appears in the composer's score. The recording of this work is a world premiere, it appears on an album for the first time, and another world premiere is the transcription for piano of the work Recuerdos de la Alhambra by Francisco Tárrega, a composer who, together with Albeniz and Granados, revolutionized the classic guitar technique and left to us compositions inspired by the wonderful landscape of Andalusia. I transcribed one of his guitar works - Recuerdos de la Alhambra, as I was saying before, this transcription for piano representing a world premiere.
The rest of the programme was built on Chants Nostalgiques. What I would like to say about Silvestri's works is that they are not very frequently played, but his music is quite special. There are three works which seem simple, but are difficult when it comes to rendering their depth and their tragic quality. I included other works that reflect this spirit of nostalgia and I recorded works such as Old Vienna by Leopold Godowsky and Love's Joys and Sorrows by Fritz Kreisler, as transcribed for concerts by Sergey Rachmaninoff. A significant part of the album is dedicated to the transcriptions of Schubert's lieder for piano, made by Franz Liszt. Schubert is a composer that Liszt greatly admired and cherished. Among these transcriptions are the famous works: The Erlking, Ave Maria and Serenade.
A very special place on this album is held by the historic recordings of our great artist, the tenor Ion Buzea. By means of this album, both Avie Records and I wish him a warm Happy birthday, on the occasion of his turning 80.
Maestro Ion Buzea had a successful international career on the greatest opera stages. He was called a favourite of the audiences in Vienna and Zurich by the press of the Salzburg Festival in 1968. Following his debut at the Metropolitan Opera House in New York, Opera News USA used the most encomiastic adjectives to describe him, comparing his voice to those of Franco Corelli and Giuseppe di Stefano and considering his stage presence impressive. For me, it is a great honour and joy to be able to include the maestro's historic, remastered recordings on this album. So, these are the works on this new album. As you mentioned, they were presented in London the other day. The concerts took place at Steinway Hall and St. Martin in the Fields, under the aegis of the Romanian Cultural Institute, which organized this event at top level, attracting numerous aficionados. I was really glad that the well-known mezzo-soprano Ruxandra Donose attended the concert and, as I was saying, it was a special event. Soon, the album will be presented in Romania, and I already rejoice at the thought of meeting the Romanian music lovers again.

Where and when was this album recorded?
The album was recorded in Germany, at the beginning of this year, on a very special Steinway: special from the historical point of view, because great pianists played on it. This instrument was at the Abbey Road Studios and is a great piano. The Steinway Company was brilliantly represented this time and I was really glad that this programme, including Constantin Silvestri's music and the music of the tenor Ion Buzea was recorded using this wonderful piano.
Andreea Chiselev
Translated by Mihaela Olinescu and Elena Daniela Radu
MTTLC, The University of Bucharest