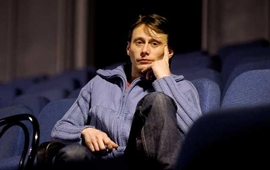 Marius Manole Makes His Debut as Reciter with the Peer Gynt Suite
Friday, 22 August 2014 , ora 10.59

On 13
th
September, 2014, the Summer Theatre in Herăstrău will host an unusual concert entitled
Peer Gynt's Fantastic Adventures
. The concert will be given by Marius Manole and the Bucharest Festival Orchestra, conducted by Cristian Lupeș. The actor makes his debut as a reciter with the
Peer Gynt Suite
. He talked about this collaboration in an interview granted to our station:

This is your debut as Peer Gynt. How do you see this character?
It is very strange for me, because I am used to theatre productions, where it is a lot easier; that is what I do all the time and a character in a theatre performance is built in a completely different manner, taking into account that you have partners and a director. Well, things are simpler. But this is theatre-concert: I have an orchestra of 60 people and Grieg's music behind me and we hope to make the story as accessible to the audience and as up to date as possible. This is what we are currently working on: a new translation of the story. The themes and the language have changed a little, so we are trying to transmit the story as well as possible. Actually, I will only be a story-teller; I won't necessarily interpret Peer Gynt.

What changes for an actor when he is surrounded by musicians?
A lot of things change: when it comes to theatre, you don't need to make your entrance at certain signals, you have the time to say your line when you want and you are not conditioned by music and by other many things. A concert, regrettably or fortunately, is a very good exercise because you have to keep in mind everything that happens behind you and rehearsals are a lot more exact and regular compared to the theatre.

How is the collaboration with the conductor Cristian Lupeș and the Bucharest Festival Orchestra?
It is the first time I do this, my first meeting with Cristian. We wanted to organize this concert at the Iasi Opera. It wasn't possible. Now, with help from Arcub, we will do it in Bucharest. It is a beautiful collaboration. Cristian is an atypical conductor, a young conductor who wants to try, to experiment, to innovate and to bring young audiences to the concert halls. Actually, this is the purpose of the performance. The first part of the concert will comprise soundtracks of famous films and the second part will be the story of Peer Gynt. We do this concert precisely to bring back people, especially young people, to make them come to the National Theatre or the theatres in Bucharest, to the Athenaeum or the National Opera, to make this story a bit more approachable to them. You know, there was a survey and young people under 18 were asked if they knew what a symphony orchestra was and 80% of them could not give an answer. Thus, we thought this would be a good approach, to make understanding easier and less scary. They imagine that everything is so unfamiliar and scary about a concert that they kind of avoid concert halls; we want to show them that it is possible.

How did you see a symphony orchestra before this collaboration and what do you think of it now?
Well, I often admired them. Given that I go to concerts, I don't consider them scary; on the contrary, I wanted to work with them. You know, when I wasn't in the theatre business, I hadn't become a student yet, I was looking forward to seeing how things worked. In fact, I was curious to see what actors were doing backstage before the performance, how they rehearsed, what they did when they went off the stage, how they left the character's skin, what they discussed backstage…small curiosities. I felt the same curiosity about the symphony orchestra: I wanted to see how they worked when they were not in front of an audience, how they acted at rehearsals, what they focused on. I was very curious about how an orchestra of 60 people worked, how was the conductor, what he did exactly, because I had never understood his purpose. I mean, I had an idea about what he did, but Cristian explained to me the differences between two conductors, how they can make the same score sound very differently…a lot of interesting things that you only understand if you are an insider.

Cristian Lupeș told me that you are an actor who doesn't refuse projects; of course, after a selection. What were the reasons you accepted this collaboration?
As I was saying, this is something very new for me and it's a pity not to try something if you receive a proposition and you are offered something new that you have never done before. It helps you evolve, meet new people. I believe that the acting profession and all the vocational professions are built on meetings. And so, such a meeting can be beneficial to an artist. Who knows? If I like it very much, maybe we will do such a concert monthly or once a year. Abroad, this kind of performance is pretty common and a lot of great Hollywood actors, for example Jeremy Irons and many others do it.

I would like to ask you to launch an invitation for the concert on 13th September.
I invite people to come to Herăstrău Park on 13th September, at 20:30, since the concert will be extremely beautiful; they should not be scared, because even if 60 people, an entire orchestra, will be on stage, there will be nothing scary about it, especially since in Herăstrău the atmosphere is fantastic. Unfortunately, few people in Bucharest know that venue. It is a very beautiful location, I went there myself and it's wonderful. It's in a very green space and the stage is fantastic, with very good acoustics. I invite them to spend three agreeable hours, especially since the tickets are not very expensive; we fought for the price to be accessible. We also have discounts for students, because this is the purpose. We invite them to be part of our story.
Lucian Haralambie
Translated by Mihaela Olinescu and Elena Daniela Radu
MTTLC, The University of Bucharest