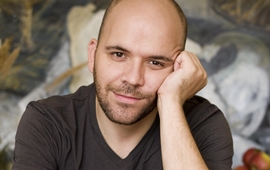 Peer Gynt's Fantastic Adventures - the Summer Theatre in Herăstrău
Saturday, 20 September 2014 , ora 11.22

On 13
th
September, 2014, the Summer Theatre in Herăstrău will host an unprecedented concert named
Peer Gynt's Fantastic Adventures
, performed by Marius Manole and the Bucharest Festival Orchestra conducted by Cristian Lupeș. This is the first time when the actor plays the role of a reciter with the
Peer Gynt Suite
. The first part of the concert will be a tribute to the music of Hollywood movies and Disney cartoons, whereas the second part will be totally dedicated to
Peer Gynt,
performed by Marius Manole. During the concert there will be screen projections from famous movies in order to create a surreal atmosphere.
We are given further details in an interview granted by the conductor Cristian Lupeș:

On 13th September, 2014, you will conduct Peer Gynt's Fantastic Adventures.There will be a first part as a tribute to the film music, then a second part to the story whose music was imagined by Edvard Grieg. How will you combine these two sides?
Somehow, we see them as being complementary for the two sides of the concert. In the first part, we have all the greatest Hollywoodian or Disney productions, from the famous Superman, Star Wars, the Pirates of the Caribbean, Frozen - a new Oscar winner - and the Phantom of the Opera to a slight touch of Broadway brought to the cinemas. So, we have the stories and the music but we don't have the characters in flesh and bones. In the second part, there is a very famous play - Henrik Ibsen's Peer Gynt - narrated and performed by Marius Manole. Therefore, there is a complementarity between the two parts, a connection, which is very satisfying, because it gives us a certain unity. We have tried to find the perfect repertoire, so as it would fit the second part of the concert and, in our search of the best repertoire formulas to complete the Peer Gynt Suite, we have reached this balance which gives us a spectacular and popular repertoire that always brings together a lot of people. To us, the musicians, it's a quite challenging repertoire because we are talking about the 20th and 21st century music, contemporary music which sometimes uses harmonies or melodics which are characteristic of the Romantic period while all the technical features are very modern; the same goes for the combination of the structures. It is a very stimulating music both for us and for the audience who is being animated by the Hollywoodian stories.

From a conducting point of view, how difficult is to pass from a film score to Grieg's music?
The film score we use is very good music. It is John Williams or Hans Zimmer's music. They are great works. Good music is good music, no matter what; we cannot say that we pass from a certain musical genre to another. After all, to quote my stage colleague Marius Manole who, when asked how he managed to shift characters, he replied: 'I do not shift characters. It is just an actor's job and I must do that, too'. I could say the same thing; I do not shift music. It is a job and I must do it, obviously with all the commitment because it is the repertoire I chose and I like very much, so there shouldn't be any difficulties. We have to be very careful so as to be able to convey our musical intention to the audience; to be as sincere as we can and also as focused as we can on what we have to say or play.

We have already talked about one of the guests of the Bucharest Festival Orchestra ensemble, Marius Manole. How is your ccollaboration with him?
Excellent! He is an extraordinary man, an actor and an artist that every audience love and we already know that he has a fan club, but he is also appreciated among artists, actors and musicians because he is an actor who, unlike the others, doesn't refuse projects; of course, he makes a qualitative selection, but he doesn't reject them. That's why, he - and he doesn't like to be mentioned - holds an impressive record. Last season he participated in around 540 shows. He is a man who refuses nothing, who gives his best both on stage and in his life and working with him is amazing. We have very open minded and natural discussions about any sort of things that could improve our shows.

Lately, there have been a lot of versions of Edvard Grieg's Peer Gynt Suite on the Romanian stages. What is the novelty that Marius Manole brings to this role?
Somehow, those suites, Florin Piersic and Victor Rebengiuc's versions, I think they are the ones you are referring to, are marvellous. Both are great actors, people whom I appreciate very much. Firstly, Marius Manole gives us another age, a younger Peer Gynt. On the other hand, Marius Manole's and the whole ensemble's interpretation of Peer Gynt along with the director, Casandra Topo's concepts are very curren/contemporary ; we bring Peer Gynt into our present times, he will speak on stage in the same manner as the audience does before or after the concert. He is a Peer Gynt of 2014, with contemporary and modern features.

As a conclusion, Cristian Lupeș, how do you think this new concert will influence the Romanian musical life?
First of all, this concert is about a Peer Gynt of our present times. This is the novelty. Secondly, the concert tends to take the shape of a subtle invitation to the public of Herăstrău to take a small walk or a promenade. It's an invitation to us all, now in the first days of the fall, to swap the park walk with the concert hall - the Athenaeum or the Radio Hall - or the theatre hall. It is difficult to gather both theatregoers and music lovers in the same place. Through what we do, we invite people to step forward with confidence into the cultural institutions because, for that matter, we all see what's going on in our society.
Lucian Haralambie
Translated by Georgiana Ursu and Elena Daniela Radu
MTTLC, the University of Bucharest