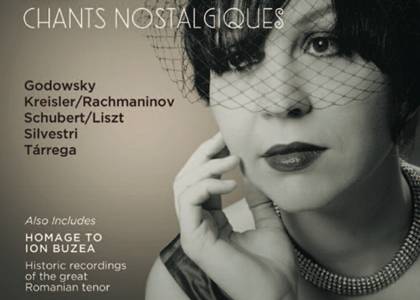 Luiza Borac on 'Chants Nostalgiques'
Wednesday, 5 November 2014 , ora 9.15

A series of transcriptions for piano and a time-defying collaboration with one of the most appreciated voices of the 20th century – Ion Buzea. The pianist Luiza Borac talked to us about the latest album having her name on the cover – Chants Nostalgiques.

An album mostly consisting of transcriptions for piano of well-known works; how did the idea of Chants Nostalgiques come to life?
The idea for this album was generated by the piano suite Chants Nostalgiques – this is the translation used by the composer Constantin Silvestri for his suite, Songs of Desolation. It is a suite composed of three piano works; this recording is a world premiere, fact which made my really glad. It is an important work within the universe of Romanian music and I considered that it should be listened outside Romania as well. The Romanian pianists and Romanian musicians in general know this suite, but it is less well-known abroad. Given the common feeling of nostalgia, it includes many other works. The titles of the works make one think of nostalgia. For example, the spirit of erstwhile Vienna; this special atmosphere is depicted by Leopold Godowsky, a great pianist and composer, in his work entitled Old Vienna. Also, Kreisler's well-known works for violin and piano, Love's Joys and Sorrows, were transcribed by Sergey Rachmaninoff. A special place on this album is held by Franz Liszt's transcriptions of the beautiful lieder by Franz Schubert; some of them are quite famous: The ErlKing, Serenade or Ave Maria. Very important and heartfelt is the homage rendered to our great artist, Ion Buzea. It is in the spirit of nostalgia that I added these historical recordings: five lieder recorded by maestro Buzea on the occasion of his winning the Enescu Competition in 1964. I dared to make this experiment due to the maestro's kindness; he gave us the historical recordings. By combining the historical recordings and my accompaniment through a special remastering and mixing technique, I wanted to pay modest homage to this great artist of the Romanian music – Ion Buzea, who this year turned 80, an amazing age. Only few people belonging to the younger generations are aware that maestro Ion Buzea had an incredible, very successful career on the greatest opera stages. The international media of the time compared him to the best of the best and used the highest laudatory terms to describe him.

What was his reaction when you suggested this collaboration?
He is very modest, but he was really glad. He did not want his recordings to be in the limelight, but integrated in the spirit of nostalgia, in the initial concept of this production. Of course our wish was to focus on him, but he is an incredibly modest person. He was really happy and very touched. It is worth mentioning that the international media reacted very enthusiastically and was quite impressed by the maestro's vocal qualities. Even Pianist Magazine used very beautiful words, describing his voice as 'heartbreakingly moving'. Although made in 1964, these recordings have an incredible expressivity.

We talked about transcriptions. One of them was signed by you. Why an adaptation of the work Recuerdos de la Alhambra for piano?
The audience finds this work familiar – maybe not the title, but the work is very popular all around the world – and many love it. The author is Francisco Tárrega who, together with Albeniz and Granados, composed works that describe Andalusia in a special way. He uses a direct and moving language, addressed to both experts and music lovers. It is a work that many musicians love and I am no exception. In original, the work belongs to the guitar repertory, but I wanted to be able to play it on the piano. Certainly, the main reason is that the work uses a rather sophisticated technique – guitar tremolo – and it was a wish or curiosity on my part whether this could be performed on the piano, as well; thus, the idea of a guitar-piano transcription.

The audience would like to see you perform in our country. Will there be a Luiza Borac concert in Romania in the near future?
Theoretically, yes; I hope we will have some concrete dates soon. I'm looking forward to meeting the Romanian audience again; every time, they welcomed me with the same warmth I myself felt, so I hope our meeting will take place shortly.
Lucian Haralambie
Translated by Mihaela Olinescu and Elena Daniela Radu
MTTLC, The University of Bucharest