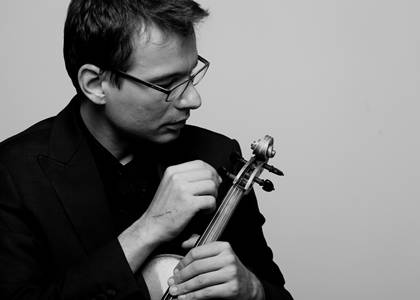 Variations on Themes from La Traviata, for Violin and Orchestra - Today at the Radio Hall
Wednesday, 29 October 2014 , ora 13.55

Two appreciated Romanian musicians – violinist Alexadru Tomescu and conductor Cristian Oroșanu, who could be found conducting some important international orchestras, are today, on 29
th
October, the stars of the concert of the Radio Chamber Orchestra. The musical evening will open with
Adagio for Strings
by Samuel Barber, followed by
Variations on Themes from La Traviata, for Violin
and
Orchestra
by French contemporary composer Marc Olivier Dupin, with Alexandru Tomescu as a soloist. The violinist was invited to the
Interview of the Day
within the morning
Musica Viva
Programme:

'his evening you will perform with Cristian Oroșanu and the Radio Chamber Orchestra. Could you tell us a few words on your collaboration with these musicians?
I've eagerly and with much interest awaited for this concert. It has been a while since I last played along with the Radio Chamber Orchestra and many things have happened in the meantime. The Orchestra has changed, evolved and really become an elite ensemble. It was not by chance that I have chosen this work – Fantasy from Themes on La Traviata by Marc Olivier Dupin – as it is a piece of utmost finesse, virtuosity, demanding maximum attention from the orchestra. Cristian Oroșanu is the most suitable conductor for this repertoire because he has a vast experience as an opera conductor, so there is nothing easier than replacing a human voice with a violin in such a Fantasy. It is a work that I believe is performed for the very first time here, in Bucharest and in Romania. I played it for the first time last year at some festivals in America – the most important was in Los Angeles, on the stage of the Walt Disney Concert Hall and on the concert hall of the philarmonic. I'm convinced that opera lovers, but not only them, will discover a truly musical jewelry.

Now that you have just mentioned your last encounter with the Radio Chamber Orchestra...do you hold any special memory of this ensemble?
Along with the Radio Chamber Orchestra I had my first album issued; it was produced by Radio Romania Music. I'm talking about a CD, with Concerts nos. 2, 3, 4 and 5 by Mozart. I made a series of special recording together with maestro Horia Alexandrescu.

The name of Alexandru Tomescu was much heard in 2014. What is your biggest accomplishment this year?
For me, there are undoubtedly the Stradivarius Tour and the Prokofiev programme that I presented to the audience. I am in the limelight again, after many years, in a chamber music contex, due to this tour, along with Russian born pianist Edward Kunz.
I performed the two Sonatas for Violin and Piano by Prokofiev, the five works written by the same composer and a piece especially written for us, a Scherzo by Gabriel Gâțan, at the opening of each of the concerts.

'Where can we listen to you after the concert at the Radio Hall?'
The following day I'll be leaving with my colleagues from the Ad Libritum Quartet - Filip Papa, Bogdan Bișoc and Șerban Mereuță – for the Netherlands and Belgium for a series of concerts. We will then come back to Romania for another tour which will take place in Timișoara, Cluj and Iași, along with the same Ad Libitum Quartet; and at the end of November I am going to travel to the United States for a series of concerts in Washington – at Kennedy Center, in New York – at the United Nations, and last but not least, at Carnegie Hall. I prepared for this tour Paganini's Caprices – a programme which is performed quite rarely even there.
Lucian Haralambie
Translated by Anca Romete and Elena Daniela Radu
MTTLC, the University of Bucharest