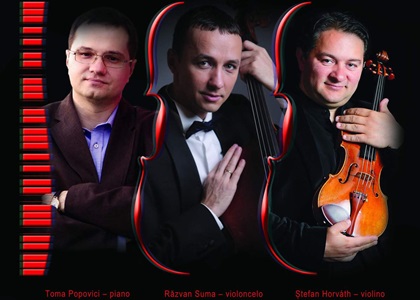 Răzvan Suma Holds two Recitals in Portugal
Tuesday, 2 December 2014 , ora 11.24

The cellist Răzvan Suma, the pianist Toma Popovici and the violinist Ștefan Horváth will perform in December, in Portugal. The two events are scheduled in Porto and Lisbon on 3rd and 5th December 2014, respectively.
Răzvan Suma – cello, Toma Popovici – piano and Ștefan Horvath – violin. This is the formula in which you will perform two concerts in Portugal. Where, more precisely?
We will perform in two of the most important halls in Portugal. The first concert will be at the Casa da Musica in Porto,, where we also played last year together with my colleagues from the Cellissimo Quartet - Marin Cazacu, Alexandra Guțu and Octavian Lup. Then, we will play at the Gulbenkian Hall of the Gulbenkian Foundation which is the most famous hall in Portugal. This time we will play as a trio, with my good friends and colleagues, Ștefan Horvath and Toma Popovici and I hope the two events will come out beautifully.
Fate has brought us to this formula. It must not be forgotten that my personal relationship with Ștefan Horvath goes back to the first grade; we studied together in Cluj, we went to the music highschool there, we also studied in Bucharest, and after that each of us went on our separate ways because he accepted the position as a concert master at the Basel Orchestra. But so it happens that after many years, eight or nine, we come on stage together again, but this time as a trio. Needles to say, we have had a stable collaboration with Toma Popovici for the last couple of years and the professional result of our work together shared by the three of us, is extraordinary.

Which opuses are you performing in the two recitals in Portugal?
We are playing a little bit of everything;a bit of George Enescu because we have to represent Romania through Romanian music, nameley, Serenade Lointaine. It must not be forgotten that the events are organized by the Romanian Cultural Institute and by the Embassy of Romania in Portugal, through the intense collaboration of the ambassador of Romania in Portugal, Bazil Popovici, and this is the reason why we are also playing Romanian music. We are very proud of our national composer, George Enescu. Then, we are playing an extraordinary opus by Schubert, the famous Trio Op.100, which is a new piece for me. It has many fantastic themes.
Lucian Haralambie
Translated by Manuela Cristina Chira and Elena Daniela Radu
MTTLC, the University of Bucharest