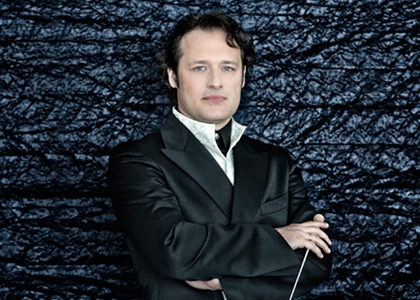 'The German Requiem' Interpreted at the Radio Hall
Friday, 5 December 2014 , ora 9.48

A German Requiem,
by Johannes Brahms is an opus which the
Romanian Radio National Orchestra
and the
Academic Radio Choir,
conducted by Dan Mihai Goia, will interpret, during the concert which will take place at the Mihai Jora studio
of the Romanian Radio Corporation
on Friday, 5th December, 2014. The soprano Çiğdem Soyarslan and the baritone Ionuț Pascu will be the soloists and Sascha Goetzel will be leading the orchestra from the conducter's stand.

This is your second time on the stage of the Radio Hall. How is your collaboration with these musicians going?
I like working with these musicians very much - the orchestra and the choir - because, in my opinion, they have a very warm approach to making music. Everything comes from their souls; they put a lot of their heart and soul in the music they make. Not all ensembles can do that. There are orchestras that have other qualities - they possess an exceptional technique and have a special colour. I like making music in the company of the Romanian Radio National Orchestra and the Academic Radio Choir. We laugh during the rehearsals and we start this journey through the world of sounds together. After having collaborated last season with the Symphony No. 2, by Gustav Mahler, we trust in each other even more, which helps a lot. We don't force things, everything comes naturally. We work only on the colour, the phrasing and the articulation. It is a pleasant atmosphere. I am waiting for the concert eagerly.
When I speak of Romanian musicians, I can say that we have had this kind of collaboration each time. I have been to Cluj-Napoca and Timișoara. I put my heart and soul into what I do. They play mostly with their souls and they try each time to make music from their hearts. It is amazing. If all musicians in the World tried to do the same thing as they do those in Romania, maybe we would be having more interesting concerts everywhere. One can say that Romanians don't just enjoy singing the notes on the score. They don't have a simple, mathematical interpretation. I have the feeling, maybe because of the important interpretative tradition of Romania that they want to create a music language of their own. It belongs to their soul and their culture and that is fantastic.

The first Romanian audition of the German Requiem happened in the Romanian Radio National Orchestra's interpretation on 24th November, 1966. What is the history of this opus, in relation to you?
I was a violinist in the Vienna Philharmonic Orchestra when I played for the first time this requiem. Then I conducted it when I was at the conducting desk of an orchestra made up of students, when I was in the USA. In my book, the German Requiem is one of the most spiritual works ever written. There are requiems written in the Romano-Catholic style and we can find a more Protestant approach on Handel and Bach. The music is of great importance. In my opinion, in Brahms' case the music is closer to us, than to God. As I said, it is one of the most spiritual works ever written and that is because of the text the composer chose. Technically, the music is not necessarily difficult, but for us, musicians, is an incredible experience and that, I believe, applies to the public too. It is a music which cannot be controlled. It comes to you and, at the same time, it has always been there, surrounding you, and it somehow continues to linger, even after it is no longer played. There is an incredible bound between it and the humanity. It teaches us that we are never lost, that we will always exist, although not in the manner we think we do at the moment. It is fascinating!

How did the dialogue between the conductor Dan Mihai Goia and the two soloists go?
It is important to share our opinion regarding the approach to this work. In the end, we have to find a common music language. If the conductors don't communicate and by that I don't mean only between the three of them, but between the members of Orchestra and of the Choir too, when it is very difficult for them to feel that the conductors are close to them. It is important for this bound to exist, because it is only then when those who are in front of the conductor can do their best. This is one of the conductor's main responsibilities. It is true, there are several ways to attain this result, but I also believe that by communicating with each other we are easing our work and the public gets to understand us easier. Again, music is a language and we have to learn how to speak it if we want to find a common ground. Music isn't just about singing, but also about expressing harmoniously as a group.

Do you have a message for our listeners?
Christmas is near, so I am going to take advantage of this opportunity to tell those who enjoy life to spend their time and channel their energy into helping those who aren't as happy as them. Consequently, in this evening's concert, I am directing all my energy to those who are in need of witnessing a beautiful moment. I feel very happy, very lucky and I want to share all my positive energy to those who need it.
Lucian Haralambie
Translated by Izabela-Elvira Vațe and Elena-Daniela Radu
MTTLC, The University of Bucharest