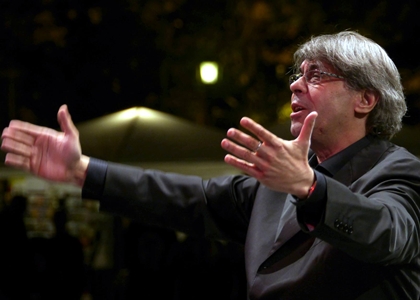 Romanian Jazz at the Radio Hall
Tuesday, 9 December 2014 , ora 9.45

The Radio Big Band,
conducted by
Ionel Tudor, invites the public to another evening filled with jazz music, on Romanian
Jazz, on Tuesday, 9th December, 2014.

The Radio Big Band is proposing another evening of Romanian Jazz. Which are the pieces you are interpreting this evening?
It is another concert of Romanian Jazz, Blues, more exactly. It is a Blues evening, where I have as guests: Hanno Hofer, Berti Barbera and Mike Godoroja, who are old collaborators of the Radio Big Band and who are also very well-known in the world of blues. It is going to be a special evening, a warm one; we invite you this evening, at the Radio Hall, from 19:00, because what will happen on stage will be entirely special.

You mentioned the three soloists who will perform with the Radio Big Band this evening. How would you describe each of them?
Each one has his own personality, obviously, but they all communicate through the language specific to blues music. There will be songs of various manners and orchestral works. About Berti Barbera's concert I could say that it is explosive, Hanno's is a little introverted and Mike's is a fusion between Hanno's and Berti's performances. It will be a very beautiful and warm performance, appropriate for this time of the year.

Since you spoke about the Holidays, do you have a message for our listeners?
I hope the holidays bring you love, genuine moments, beautiful moments, filled with health and happiness, and during which people are less pensive and have less problems, and I also hope that the following year brings health, happiness and abundance to everyone; and as a surprise, we will end this evening's concert with a very beautiful Christmas-appropriate collage, an instrumental one, which we dedicate to everyone, to the radio listeners and the people who come at the Radio Hall.
Lucian Haralambie
Translated by Izabela - Elvira Vațe and Elena - Daniela Radu
MTTLC, The University of Bucharest