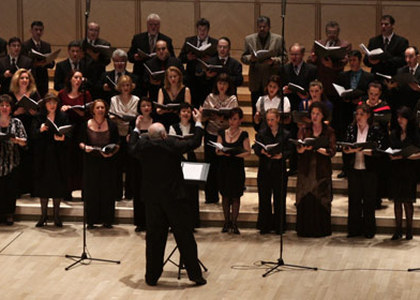 Dan Mihai Goia Conducts the Christmas Carol Concert of the Academic Radio Choir at the Cerchez Hall
Thursday, 18 December 2014 , ora 11.43



On Thursday, 18th December, 2014, the Academic Radio Choir, conducted by Dan Mihai Goia, will perform at an event organized by Radio Romania Music, at theCotroceni National Museum. The artistic manifestation will bring to the public famous arrangements, made by Dumitru Georgescu Kiriac, Tiberiu Brediceanu and Valentin Teodorian, of Romanian Christmas carols.

The Academic Radio Choir will perform tonight at the Cotroceni National Museum. What did you prepare for the public?
We prepared a very interesting and attractive programme, filled with carols from the Romanian and universal repertoire. The carols are always sung with great joy and pleasure. We had a concert at the Romanian Radio Hall on Monday, 15th December, 2014, and, there it is, this evening we are having another one, at the Cotroceni National Museum. I want to take advantage of this occasion and thanks to the management of Radio Romania Music, who mediated our relationship to the Cotroceni National Museum. We want to delight the people there, who are eager to listen to music.
This programme has a kaleidoscope structure; it is very dynamic, it is made up of suits, potpourris, a diptych and a triptych of carols, so they unfold like the frames of a movies, skipping from one scene to another, and bring joy to the hearts of those who listen to them and to make them want to live with full intensity and happiness the apparition of each carol in the concert's programme.
We are performing at the Cerchez Hall, which has a tradition in hosting chamber concerts. I went there when I was a chorister in the Madrigal Choir and when I was conducting the Te Deum Laudamus Orthodox Male Choir; we performed with the Academic Radio Choir in a theater room once. We are performing for the first time at the Cerchez Hall, which has a very good acoustics. This initiative is laudable and brings joy to the hearts of the beauty lovers and genuine music lovers.

What are the important moments from the Academic Radio Choir's existence, now that we are getting close to the end of 2014?
There has been many in number in the first half of the year, but I am going to talk about the current season - the ongoing one -, during which we have had three exceptional concerts. We sang the German Requim, by Brahms, the Requiem in C minor for mixed chorus, by Cherubini and the Mass No. 5 in A flat major, by Schubert - three concerts that we prepared meticulously, concerts in which we manage to overcome the small number of choristers by preparing our performances very well, measure by measure, nuance by nuance, colour by colour, so that everything was at the highest level of quality.
We performed in the religious concert organized by the Romanian Patriarchy in October … we sang many songs … all of them were glimpses of artistic celebration for the Academic Radio Choir, despite the difficulties it met with, its members keep their professionalism and their wish to be true artists.
I am sure this evening's programme will gladden those who will listen to us, as it did in last Monday's concert, which was broadcast by the radio stations. I would like to take advantage of this occasion and wish all choral music lovers and listeners a New Year full of happiness, achievements and satisfactions on every level! We hope that choral music reaches to their hearts and houses with every wavelength of the high frequency radio, to gladden their souls and minds with what is beautiful and true.
Lucian Haralambie
Translated by Izabela-Elvira Vațe and Elena Daniela Radu
MTTLC, The University of Bucharest