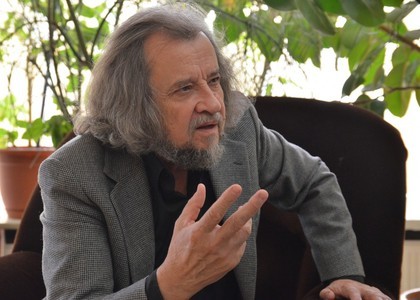 Sabin Păutza is Conducting the Radio Chamber Orchestra
Wednesday, 21 January 2015 , ora 10.03

The conductor and composer Sabin Păutza is returning to the stage of the Romanian Radio Hall, where he will be
standing at the conducting desk of the
Radio Chamber Orchestra
this Wednesday evening, on 21st January, 2015. Former artistic director and principal conductor of the oldest orchestra from New Jersey,
Plainfield Symphony,
and currently honorary director for life of the ensemble, he will start this evening's programme with a piece of music which has his mark on it -
Fantasy on a Theme by Mozart. About this piece of music Sabin Păutza himself told us the following:

I wrote it in 2006, when the classical music world was celebrating 250 years since Mozart's birth; I held a concert, accompanied by my philharmonic orchestra there, in the United States of America. It was a purely Mozart programme, filled with arias from his operas, and his symphonies. I thought that it would be better if I wrote something in his memory, as a musical joke and as a gift to him, instead of conducting one of his overtures … and this fantasy on very well-known themes from his operas, his chamber music, his 'little serenade' and his symphonies came out … and it came out in this form, in the form of a musical joke, as a 9-10-minutes divertimento, which the public would have appreciated and even he would have appreciate it if he listened to it, no matter where we had interpreted it.

This evening's soloist is pianist Lucian Velciu. This isn't your first collaboration with him.
No. We performed together a few years ago, when I was younger, and I was glad to see him again and continue this collaboration. Of course, it will be different because neither of us is the same after all these years. We will be interpreting the Piano Concerto No. 3 in C minor, Op. 37, by Beethoven and, in the end of the recital, the Symphony No. 2 in B-flat major, D. 125, by Schubert, which is a youth work, but it is interpreted too rarely, sadly, and which deserves to be brought back to life. It is a very good work, I even recorded it. I like walking the off-beaten path. I always suggest the conductors of the philharmonics works which are lesser-known, newer and less interpreted.

You made a series of recordings accompanied by the Radio Chamber Orchestra, before this concert. How did this dialogue between you and the Radio Chamber Orchestra go?
Ooo, I don't remember when it was the first time we collaborated ... I have come here every year after the '90s and I have been living in Romania for three years now and I go to America frequently. I have come back home and I conduct almost every orchestra in Romania and I have always held very good concerts, enjoyed beautiful receptions and had very good collaborations with the Radio Orchestras.
The Romanian Radio Hall has very good acoustics, it was built that way. It looks good, it is well designed, each seat has a perfect view of the stage, and it is large enough to organize a vocal-symphonic concert in it. I have conducted jazz concerts here, I conducted the Romanian Madrigal Choir from this stage, two years ago, when it celebrated its 50 years since it was founded. Every concert hall, as every human being, has a particular feature, it has a distinctive characteristic.

What is next for you after this evening's concert?
I have some collaborations, lesser than I had in the past, because I am turning seventy two in two weeks and the doctors have told me to slow it down - to look at myself in the mirror and at my ID … I am no longer young. But this is what keeps me alive! I can't imagine myself not working. I work even during the feast days, I pray to God for forgiveness, but I worked even during Christmas. I compose music, orchestrate, namely, I do what I think I am best at. I have concerts scheduled all over the country. I will be interpreting American music in a concert in Târgu Mureș, on the first week of February. This is what they asked me to interpret;"Music out of the New World" … only American music of all kinds; accompanied by the Choir of the Târgu Mureș State Philharmonic and the Târgu Mureș Philharmonic Orchestra. And I have concerts scheduled with other orchestras from all over the country: I will be conducting in Sibiu, Brașov, Bacău and Craiova.
Lucian Haralambie
Translated by Izabela - Elvira Vațe and Elena Daniela Radu
MTTLC, The University of Bucharest