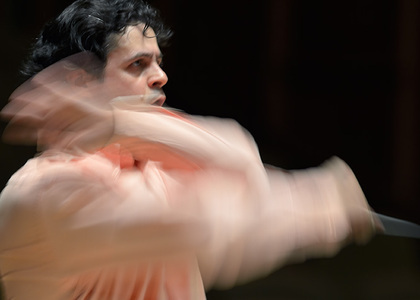 Cristian Oroșanu behind the Music rack of the National Radio Orchestra
Friday, 23 January 2015 , ora 15.01

Today, 23
rd
January, 2015, the National Radio Orchestra brings forth to the music loving audience a concert featuring violin soloist Patrycja Piekutowska, the first Polish violinist who in 2008 was one of the winners of the Cannes Classical Awards - the present-day ICMA. She will perform
Meditation
from the opera
Thais
by Jules Massenet. The overture
Egmont
by Ludwig van Beethoven and the
Symphonic Dances, op. 45
by Sergei Rachmaninoff will also be performed.
Cristian Oroșanu
will sit behind the conductor's music rack.

This is the second time this season that you will walk on the Radio Hall stage, this time in order to conduct the National Radio Orchestra. Could you share some words about meeting this ensemble?
Meeting this ensemble is, in fact, an opportunity to see them again, not so much for being their conductor, but rather for re-joining them after a long time. I was part of this ensemble many years ago, as a hornist. Many times I probably say the same thing when I am asked about the National Radio Orchestra… that I return home. My colleagues are like a family and I am truly delighted to join them again. The Orchestra responds very well, it is obvious that Rachmaninoff is on the repertoire. It is not an easy performance at all, it is Rachmaninoff's last opus, written during his last two years of living, a performance which is truly difficult from a technical point of view - notably the third part - but also greatly emotional. Rachmaninoff, during his exile in America, recollects Russia, he calls his frozen steppe to mind, his birches, his whole life and his entire youth in Russia, which he has never forgotten and for which he longed up until his very last breath. The National Orchestra befittingly answers these requests of the score and I am positive that our performance will live through your recordings, to which you shall listen with delight for years to come.
I first of all invite you to join us at the Radio Hall, because a live audition is different from a radio recording. Of course, those of you who cannot make it should indeed listen to the performance on the radio - this is the main advantage of the Radio orchestra, that this way, it can be heard by people around the country. However, a live concert is nowhere near a radio broadcast or recording and for this reason I invite you all to fill the hall up.
Lucian Haralambie
Translated by Andrei-Radu Bîrsan and Elena Daniela Radu
MTTLC, the University of Bucharest