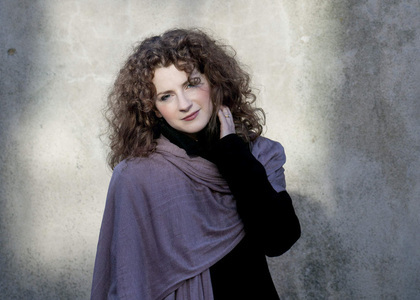 Alexandra Silocea - on the Stage of the Konzerthaus in Vienna
Tuesday, 27 January 2015 , ora 15.34

On Wednesday, 28
th
January, 2015, the pianist Alexandra Silocea will give a recital on the stage of the Konzerthaus in Vienna. The event is part of the Music and Literature series.

You will give a concert on the stage of the Konzerthaus in Vienna. How did this invitation reach you?
This will be my third time there. Last year I played within the same series of Music and Literature concerts;, and my debut at the Konzerthaus was in 2008, when, together with the Viennese Chamber Orchestra, I played a Mozart concerto in Mozart Hall. The concert on 28th January will be in Schubert Hall.

Since you mentioned the 2008 concert which meant your debut there, what was your opinion of the Konzerthaus then and how do you perceive it now?
This is an interesting question…At the time, I had just finalized my studies in Vienna and for me, the Konzerthaus represented something special, because during my studies, I used to turn the pages for all the great pianists who were playing there. So, I really enjoyed being on the stage without a score, seeing exactly how it felt to play the piano, not just be near the piano.

What is the programme of this recital?
This recital is actually part of a series of Music and Literature concerts , very much loved by the Viennese audience; it is sold out as soon as the tickets are available for sale. I will share the stage with an actor - Martin Vischer, who will recite an excerpt from Italo Calvino's book - The Baron in the Trees, with the action taking place around 1867. The music was carefully chosen and is interwoven with the text. I will be playing two sonatas by Scarlatti, then Le Rappel des Oiseaux and Les Sauvages by Rameau, Le Tic-Toc-Choc by Couperin, one of Mozart's sonatas and Enescu's First Piano Suite - Prelude and Adagio.

In your opinion, how important is it for a Romanian soloist to represent the Romanian music school, to play Romanian opuses?
It is extremely important, especially since Romanian works are very much appreciated abroad and the audiences just love this music. Thus, I have now recorded my third album which will be launched in March at the 'Avie Records' Recording House: Sonatas for cello and piano by Enescu, Prokofiev and Shostakovich, beside Laura Buruiană.

What was the starting point of this collaboration?
This collaboration started very easily, it was practically something spontaneous. I had known Laura more through common friends, as we both studied in Paris, but I finished when she was beginning. She really liked the piano sonatas I had recorded for my first album with 'Avie Records'; she got in touch with me and wanted very much that we play Prokofiev's Sonata together. After that, we agreed that Enescu and Shostakovich would go really well with Prokofiev.

Can you give us some details about your other projects?
After this concert, I will get ready for Germany, where I will be playing Prokofiev's Concerto No. 3 alongside Meininger Hofkapelle and Leo McFall. Then, there will be other concerts in Great Britain at Manchester, Sweden, Ireland…
Lucian Haralambie
Translated by Mihaela Olinescu and Elena Daniela Radu
MTTLC, The University of Bucharest