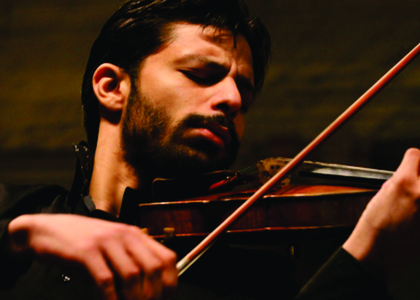 Răzvan Stoica - Soloist of the First Concert within the Mozart Festival
Tuesday, 3 February 2015 , ora 8.46

On Wednesday, 4
th
February, 2015, at 19:00, the Patria Hall will host a Kamerata Kronstadt concert; this event will open the Mozart Festival, organized by the Opera in Brașov, in February. The soloist of the ensemble guided by Cristian Oroșanu will be the violinist Răzvan Stoica.

On Wednesday you will be the soloist of the opening concert within the Mozart International Festival. How important is this initiative of the Opera in Brașov?
This festival is, indeed, an interesting initiative, all the more so, since the programme is quite impressive, with well-known works, such as the overture La Finta Giardiniera (The Pretend Garden-Girl), Mozart's Concerto No. 3 and Divertimento No. 11. I'm looking forward to opening this festival.

Why did you choose this work composed by Wolfgang Amadeus Mozart?
Concerto No. 3 is one of my favourites among Mozart's concertos. He wrote it when he was only 12; it is a work full of optimism and, at the same time, a difficult work when it comes to interpretation. I always enjoy playing it. I believe it also goes very well with the repertory chosen by conductor Cristian Oroșanu.

Since you mentioned conductor Cristian Oroșanu, how is your collaboration with him and with the Kamerata Kronstadt?
This is our second collaboration. We have a special relationship on stage. We work very well together; moreover, the members of the Kamerata Kronstadt orchestra - a young and optimistic orchestra - really enjoy playing and I think this is the most important thing. I believe it is one of the best chamber orchestras in the country.

What comes next for violinist Răzvan Stoica after the concert in Brașov on Wednesday?
After the concert on Wednesday, other concerts will follow: the one with the Südwestdeutschen Philharmonie in Konstanz; then, Max Bruch's Concerto with conductor Markus Huber in Pforzheim, Germany. After that, a tour in the Netherlands: around six concerts with my sister, Andreea Stoica; we will interpret the programme on our latest album launched by 'Casa Radio' Publishing House and entitled Virtuosity and Passion.
Lucian Haralambie
Translated by Mihaela Olinescu and Elena Daniela Radu
MTTLC, The University of Bucharest