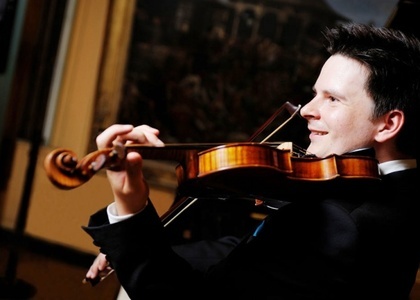 Ștefan Tarara Is the Winner of the First Edition of the Boris Goldstein Competition
Thursday, 5 February 2015 , ora 9.18

After being designated the winner of the George Enescu International Festival in 2014, the violinist
Ștefan Tarara
was awarded first prize at the first edition of the Boris Goldstein Competition in Berne, which took place during 22
nd
-30
th
January, 2015.
It is fantastic, of course, that I have been awarded another first prize. It is a very high honour. The competition is really tight and the programme was difficult, consisting of a lot of works, a wide repertory. That is why it was such an honour for me! The Enescu Competition certainly helped me to reach this level. First prize in the Enescu Competition is still the most important award I have ever won.

How was the competition? What were its phases?
There were three phases with a difficult repertory. I can't say many things about the other competitors, because I have studied for myself and, as I also said at the Enescu Competition, I am not the type to listen to the others. For me, the competition with myself is more important. I must play well for myself and, of course, it is important what the jury says, if they like it or not…obviously, it is a great honour if they say it is well, but if not…it is much more important that I want to play well for myself, not for the other contestants. There were many of my friends there, many colleagues, and I know they played very well. The competition was fierce.

Since you mentioned your professor, the violinist Zakhar Bron…How was your dialogue during this competition?
I have known him for 13 years, I am also his assistant, so obviously our relationship is very good, but he was not the only one. There were a lot of very well-known and very good professors on the jury; for example, Igor Ozim or Yair Kless. It is always difficult to play in front of your own professor, because he clearly knows how you have to play or how you should play, there is great pressure. But in the end, the competition was tight, just as in other contests, where it is not always easy.

What does this first prize consist of?
First of all, there is a sum of money just like in every competition, but also concerts. I know I have received two concerts in Portugal, where I will be playing with an orchestra. This award is important, but obviously, it doesn't have the same kind of echo that the Enescu Competition has. The Enescu competition, given the link with the Enescu Festival, provided me with lots of opportunities after having won.

What comes next for Ștefan Tarara after this competition?
I am returning to my orchestra in Brussels, where I am first concert master; we are currently working for an album. Then, I will have concerts with the Sofia Philharmonic, the one in Pitești, in Gdansk - Poland…I am about to record my first album in March. As a soloist, I have many concerts, and I also teach - I have just completed my master's degree in pedagogy…yes, this is the life of a musician!
Lucian Haralambie
Translated by Mihaela Olinescu and Elena Daniela Radu
MTTLC, The University of Bucharest