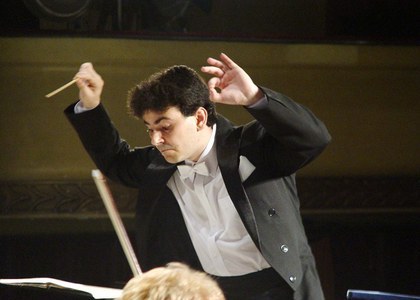 Mircea Holiartoc is the Conductor of the Romanian Radio National Orchestra
Friday, 6 February 2015 , ora 9.09

The public is expected to watch cellist Răzvan Suma perform as soloist of the Romanian Radio National Orchestra at the Romanian Radio Hall on Friday, 6
th
February, 2015. At the conducting desk of the Romanian Radio National Orchestra will be conductor
Mircea Holiartoc
. He declared the following about his presence in front of the large symphonic ensemble:
It is an honour for to be invited to stand in front of the Romanian Radio National Orchestra, which is a prestigious orchestra of our country. There are instrumentalists of great value, accomplished interpreters and a wonderful collective, which means they form a malleable, willing to work and learn new things, they are not anchored in the old and they don't follow only certain patterns, on the contrary they are very receptive, which means they listen to the conductor's indications. This is why, a lot has been made only by means of hand gestures, without pauses, all we had to do was look at each other and we understood what each side wanted. I want to have more collaborations with these kinds of orchestras in the future.

There are four composers in this evening's programme. How did you choose to perform these works?
I think this evening's programme is a homogeneous, well-bound one. All composers are typical of the Late Romantic period and they present to us various musical visions of the Romantic Era: a French vision of the Shakespearean comedy. Then, Răzvan Suma will introduce us to another French composer, Gabriel Urbain Fauré, only that, this time, we will enter in a more nostalgic area of the Romantic music, and then Tchaikovsky - this is when we enter the Slavic region - Tchaikovsky and Dvoűák will take us to different heights of virtuosic interpretation of the cello and, of course, there will be the Symphony No. 4 in F minor, Op. 36, by Tchaikovsky. In my opinion, this is the apogee of the entire concert and all the feelings the composer conveys in his symphony, the obvious agitation; he is at times introvert, but also expansive, very open and the fate he is fighting with and by which he is defeated, in contrast with Beethoven, are all obvious during this symphony. Beethoven ends up being the winner of this battle against fate. Unfortunately, Tchaikovsky is defeated. We will be the witnesses of a wonderful concert, stylistically speaking.

This evening's soloist is Răzvan Suma, a former colleague of yours. How is the dialogue between the two of you?
I was very happy to see him again, mostly because it happen under these circumstances, because we get to collaborate musically and because I generally like to collaborate with young interpreters of great value and so far we have gotten along wonderfully. His interpretative visions are not excessive. On the contrary, everything is done tastefully and, at the same time, he brings a fresh breeze, because, of all manners of interpretation, belonging to the World's great cellists, Răzvan's technique has something distinctive in it. With each performance, he brings something different to the public, which gladdens me terribly, because he has managed to find something new, without exceeding the boundaries of common sense, but, at the same time, staying within the limits of style and retaining something particular, something distinctive.
Certainly, I invite, first of all, the public to climb the steps of the Romanian Radio Hall and be a faithful auditor not only to this concert, but to the entire Radio concert season. It is an extraordinary concert season, with distinguished guests and a well-chosen programme. If the public can't be there physically, then I invite it to listen to our performance while it is broadcast on radio waves and hence participate in this wonderful concert.
Lucian Haralambie
Translated by Izabela - Elvira Vațe and Elena Daniela Radu
MTTLC, The University of Bucharest