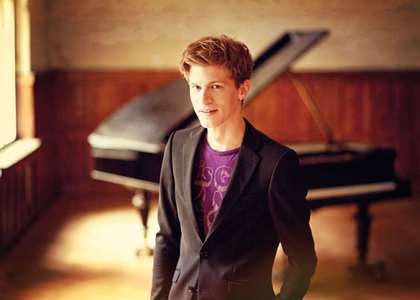 Interview with the Pianist Alexander Krichel
Friday, 6 February 2015 , ora 9.13

The German pianist Alexander Krichel, artist of Sony Classical, who won the
ECHO Klassik as Newcomer Of The Year 2013
will perform for the first time on the stage of the Romanian Athenaeum, as a soloist of the Romanian Royal Camerata conducted by Horia Andreescu on the 7
th
February, 2015. The musician was born in Hamburg in 1989 and is currently studying at the Royal College of Music in London. However, he speaks Romanian very well and is very attached to our country. Details about the origins and career of the pianist
Alexander Kirchel
and also about his concert at the Romanian Athenaeum, will be revealed in the following interview.

You were born in Hamburg but you have origins in Romania. Can you tell us more about this?
My mother comes from Romania, but she married and she has been living in Germany for more than 30 years. I was born there, but I was more or less raised by my grandparents who were also from Romania, therefore I also speak Romanian.

So, you have a strong connection with our country. And, in an interview, you said that performing at the Romanian Athenaeum was a dream come true. For how long have you been wanting and this thing and how you managed to accomplish it?
I used to come here when I was a child, I used to come and see concerts and I was looking at the stage and ... I said it, like a joke, that I would really like to performe here one day. After a while, because I came here very often, it became a dream of mine which I wanted to fulfill. Now, it is a great honour for me to perform here.

You will perform on the stage of the Athenaeum a concert by Mozart. Does this composer have a special role in your life?
Yes. I believe that Mozart is a very special composer. He was the man of genius from the classical era. Of course, Haydn and Beethoven were too, but he was uniquely gifted, very special. Everybody says that! The concert that I will be performing at the Romanian Athenaeum is, at least for me, the most beautiful concert for piano and orchestra composed by Mozart, very luminous, very bright and mystical.

How do you collaborate with the orchestra and the conductor?
We had some try outs together and we collaborate very well together. We get along, have the same ideas. When someone has an idea, we try it and we discuss about it. Horia Andreescu speaks german very well... I on the other hand have some trouble with the romanian language, as you can see. We talk both in german and romanian and we get on really well.

Now, returning to your career. In 2011 you signed a contract with Sony, a big step for a young musician. How did this collaboration start and how has it materialized until now?
I have already recorded 2 CDs for Sony - the first, a recital for piano and the second one with an orchestra. On the last one I recorded the concert which I will perform at the Romanian Athenaeum. This year, we will record another CD, entirely Rachmaninoff. It is an exclusive contract for five years and five records and then we will see if we continue this collaboration or not. I believe we will, because things have been going really well so far. It was a great honour for me to sign this contract when I was only 21 years old.

In 2013 you received the ECHO Klassik as Newcomer Of The Year. What did this award mean for your career?
ECHO Klassik is one of the most important awards for musicians, is like a German Grammy. It made me very popular mostly because they invited me to perform with them and it was broadcasted, and watched by three million people.

Which are some of your future projects after the concert in Bucharest?
In March I will perform in Dresden with Michael Sanderling, who is a very good conductor and we will record the Piano Concert No. 2 by Rachmaninoff. In July I will travel to Tokyo and I am very excited for these future projects.
Andreea Chiselev
Translated by Văduva Ana-Maria and Elena Daniela Radu
MTTLC, University of Bucharest