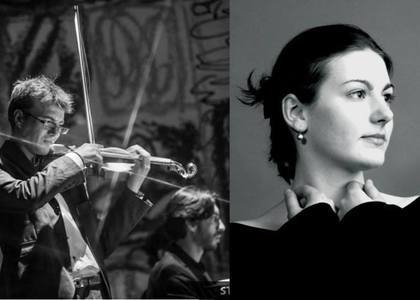 'Enescu: l'Amore in Sepia' - at the Carnival of Venice
Thursday, 12 February 2015 , ora 9.27

The Romanian Institute of Culture and Humanistic Research in Venice, in cooperation with VELA - Gruppo AMA and Ateneo Veneto, will organize the concert Enescu 60 -
Enescu: l'Amore in Sepia
at the Ateneo Veneto in Venice (Campo San Fantin 1897) on Saturday, 14
th
February, 2015. The concert is part of this year's edition of the Carnival of Venice and is given by the violinist Vlad Maistorovici and the pianist Diana Ionescu.
Vlad Maistorovici
offered us some details about the recital.

"Enescu: l'Amore in Sepia". Why this title?
Because Diana and I have tried to approach two sides of George Enescu the musician, both from a romantic perspective. We have included in the programme some of his favourite works as an interpreter and some very romantic compositions of his, given that the recital takes place in Venice on Valentine's Day: La Folia by Arcangelo Corelli, Chausson's Poème, Suite No. 2 for Piano, Op. 10 - Pavane and Sonata No. 2 for Violin and Piano by George Enescu. So, it's a romantic portrait that reminds one of the colours at the end of the 19th century and the beginning of the 20th, when Enescu was writing these works and was giving some interpretations which became benchmarks, such as Chausson's Poème or La Folia by Arcangelo Corelli. This is a period we usually associate with sepia photographs and we have lots of those with Enescu in his youth. This is the idea behind the title.

The event is part of the international series dedicated to Enescu 60. How important is promoting the music of George Enescu the composer? In other words, what does George Enescu mean for Vlad Maistorovici?
These are two different things. For me, Enescu is a whole universe, a permanent source of inspiration and, just like for many other musicians, he was and still is an idol, a great model, especially given that he is a Romanian musician. And I am sure that there is no Romanian artist who has not been inspired by this great spirit that is George Enescu and by the great music he left to us. As to promoting his music, this will certainly find its place. I do not believe that an interpreter, on his own, is able to make major or spectacular changes; things take time and they are on the right path. I still believe in Lord Yehudi Menuhin's words, that George Enescu is a musician of the 21st century: his assertion has come true and Enescu's time has come!

What comes next after this recital in Venice?
After the recital in Venice, I will have a concert in Timișoara, again with Diana Ionescu, but this time accompanied by the Banat Philharmonic Orchestra; the programme consists of Mendelssohn concertos: Violin Concerto, Piano Concerto and the Double Concerto for Violin, Piano and Orchestra. Then, I will get back to Turin, where I will be playing Beethoven's String Trio in E Flat Major, Op. 3. After that, there will be all kinds of chamber music-related projects, different projects with people dear to me, closed collaborators; I am looking forward to them.
Lucian Haralambie
Translated by Mihaela Olinescu and Elena Daniela Radu
MTTLC, The University of Bucharest