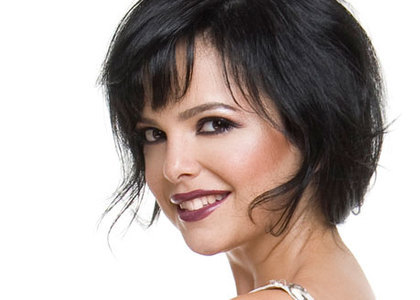 Interview with the Mezzo-soprano Roxana Constantinescu
Thursday, 12 February 2015 , ora 9.29

After having been present in important musical centres in Europe and the United States of America, the mezzo-soprano Roxana Constantinescu is now at the Opera in Zurich for a series of performances of the opera
Norma
by Vincenzo Bellini, in which she interprets the role of Adalgisa. About the production that has the signature of the director Robert Wilson,
Roxana Constantinescu
stated:
It is a reprise of a new mise en scène of Robert Wilson which took place in 2011, but has not been sung since. So this was a revival of this production. We have opened the series of performances on 31st January, and to me, that evening was a threefold debut, because I made my debut in the role of Adalgisa, I sang for the first time at the Opera in Zurich and I had the first collaboration with the maestro Fabio Luisi.

What do you think about this production?
It's a special one. I worked with Robert Wilson for the first time. I was aware of his fame, of course, for he is a master of aesthetics. The art of light, colours, abstract shapes, styled gesticulation - all these elements run through his productions. It was somehow difficult for me to get used to his sort of stage rigidity that he demands from the performers, because he is not an advocate of realistic and psychological performances. Everything he was interested in was that the effects be associated to the music and this put us into trouble at first, but the end product seems to have been of a special visual impact and..yes..we eventually also accepted this kind of concept.

This is a more modern concert from what I gather. Is this true?
It's an abstract one, it's a modern one. Nothing of what happens with natural, spontaneous staging, there are no relationships between the characters, all is based on a choreography of the arms and a particular facial expression. Just that. As for the rest, the emphasis is only put on the vocal, musical and sonorous beauty. He says he only wants to create spaces that correspond to the sonorous atmosphere.

Are the costumes created accordingly?
Precisely. The costumes, many would probably say are taken from a Star Trek episode, but again, taking into account that he is a maestro of the light and special effects, it is in fact only a sequence of scenes and the visual impact is very powerful and well received by the public.

Even if there are no relationships between the characters, could you please tell us about the collaboration with the performers and with the conductor?
I will begin with the conductor, Fabio Luisi, because he is also the one who chose me for this production. I felt very good under his baton, because he is sensitive, elegant, flexible and I had the freedom to try - we are already at the fourth performance - something new every evening, without meeting his stiffness, which is, of course, very important. In the eponymous role was Maria Agresta, an Italian soprano, with vocal qualities of wonderful expression, she has a soft, full, dark voice, I would say, but it also emanates light when needed. She managed to cover all the colours needed for such a complex character as Norma and the length of the part is also a challenge. Indeed, she is a soprano and an artist who I appreciate and admire with all my heart. The role of Pollione was played by the tenor Marco Berti, also a renown name in our world. He pulled it off and we got along very well. The most important thing to me was to interweave my voice with that of Maria Agresta, to be a reflection of Norma in the two duets. Adalgisa was originally written for a soprano, so it was a sort of a vocal challenge, but it was a pleasure to approach these duets with Maria Agresta, because the voices mixed together wery well, our colours were the same. We have three performances left and we are hoping they will come out beautifully. All our attention and focus was directed to the vocal aesthetics and beauty and the audience trully loved this performace. We were rewarded with a splendid round of applause.

What will be next for Roxana Constantinescu after this series of performances?
We will conclude everything here at the end of February. Towards the half of March I will have concerts with Missa in C Major, by Beethoven, at Calgary, and afterwards I'm flying straight to Tel Aviv, for a debut as Fenena in Nabucco, under the baton of the maestro Daniel Oren. Next there will be concerts in Budapest and Vienna, with the opera Siroe by Hasse and again as Adalgisa, in Norma, but this time in Venice, at the La Fenice theatre, in May and June this year.
Jeanine Costache
Translated by Manuela Cristina Chira and Elena Daniela Radu
MTTLC, the University of Bucharest