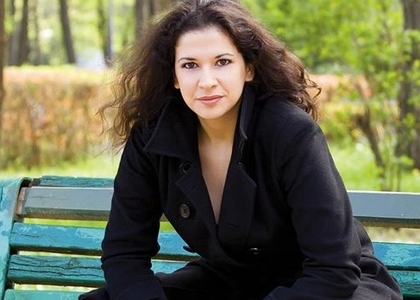 Laura Tãtulescu Made her Debut at the Klagenfurt State Theatre
Friday, 13 February 2015 , ora 10.07

Laura Tãtulescu made her debut as
Blanche de la Force
in Francis Poulenc's opera
Dialogues des Carmélites
on the stage of
the Klagenfurt
State Theatre
, on Thursday, 12
th
February, 2015.

We are talking about a performance which has an interesting history; the first interpretation of the role was performed by another Romanian soprano, Virginia Zeani. How did you receive the invitation to interpret the role, given the circumstances?
I was asked if I wanted to perform this role a year and a half ago. I answered "yes". I worked with the conductor. I must confess that all the rehearsals, the collaboration with the conductor, my colleagues and the director took place at the highest level of professionalism. The whole process lasted for six weeks. Last evening's performance received standing ovations. The performance was very well received by the public and, speaking of Madame Zeani, I myself, as a Romanian artist, feel very happy to be able to interpret this role, a role whom wonderful Madame Virginia Zeani created.

What are the challenges of this role?
The opera wasn't titled Dialogues des Carmélites for nothing, because a large portion of this role, whom Poulenc wrote, is composed in the recitative style. Vocally, I mean. In some places, the tessitura can be very low and the music played by the orchestra can be very rich and very, very loud. Finding a balance can be a challenge, but I must confess that our conductor, Alexander Soddy, knew very well how to maintain this balance for all interpreters. He knew how to breathe with us all. He was an extraordinary support and we were able to work with him, we were able to collaborate during each rehearsal, he was there every time and heard us sing and explained his point of view to us, we did the same to him and so the whole process was a team work which brought exceptionally results.

I would like to ask you to talk about the other members of the cast …
Heidi Brunner, whom I had the great joy of meeting then, interpreted the role of Mère Marie, which is a very difficult and dramatic role. Mère Marie is a very powerful presence and she can be very though, but beyond that toughness there is a very gentle and ardent heart, which I could describe as full of love. And Heidi managed to play this role in the most exceptional manner, both vocally and dramatically. She is a French speaker, so she was able to get into the character very well. Madame Lidoine was my stage mate, Betsy Horne, a soprano who has a wonderful voice. I must confess that each artist was inspiringly casted in the role he / she performed. The role of Madame de Croissy was interpreted by Marianne Ekloff, a mezzo-soprano who has a vast stage experience and who had interpreted this role many times. Sœur Constance was interpreted by Evgheniya Soutnikova, a young and wonderful, full of life, and perfect voice for this role, and the interaction on stage between us was very tight. I think the fact that we all got along extremely well outside of work made the whole rehearsing process and everything that happened before last evening's premiere, bind everything together extremely well. Richard Brunel directed for the first time the opera Dialogues des Carmélites and I must confess that - it is almost a necessity to have a French director prepare a French opera. I am saying this firstly because he understood very well Bernanos' work and secondly because he understood what meant a subtext in a libretto and managed extremely well to high-lighten all these things.

What is next for you after this production?
I have a recital scheduled in South America, during which I will be accompanied by this wonderful Romanian pianist and conductor, Vlad Iftinca, who has recently conducted the first performance of the opera Lucia di Lammermoor in Iași, and after that I will return to Santa Fe, to perform in the opera La Finta Giardiniera, then the Symphony No. 2, by Gustav Mahler, when I will be accompanied by the Atlanta Symphony Orchestra, then I will make my role debut as Helena in the opera A Midsummer Night's Dream, by Britten, and after that Fidelio and so on …
Lucian Haralambie
Translated by Izabela - Elvira Vațe and Elena Daniela Radu
MTTLC, The University of Bucharest