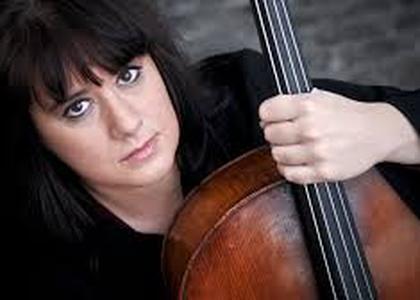 Interview with Laura Buruiană
Tuesday, 24 February 2015 , ora 9.28

A new album, recorded by the cellist Laura Buruiană and pianist Alexandra Silocea will be released on 10th March. The album contains the Sonata for Cello and Piano in D minor, Op. 40, by Dmitri Shostakovitch, the Cello Sonata in C major, Op. 119, by Sergei Prokofiev and the Cello Sonata In F minor (which was published postmortem), by George Enescu. Cellist Laura Buruiană talked to us about this release, in an interview which she gave to our radio station.

Esteemed Mrs. Laura Buruiană - a new discographic release whose soloist you are accompanied by pianist Alexandra Silocea. What opuses are recorded on this new CD?
The Cello Sonata, by Enescu - a sonata which doesn't have an opus number and which has only one movement, the Cello Sonata, by Prokofiev, and the Sonata for Cello and Piano, by Shostakovitch.

How did you come up with the idea of recording this album?
I have known Alexandra Silocea for a long time, since we were both living in Romania. We met again when we were in Paris and it was then that we decided to collaborate. Two years ago, when we received the proposition to record it from the London AVI Records, we managed to make the final adjustments for this collaboration and we recorded the album in Paris in 2013; and the CD is to be released on 10th March.

The release of the album will take place on 10th March. An event will be organized; will you perform in a recital?
No. Unfortunately we couldn't organize anything because the release date was planned for 2014, but it was delayed a little and they announced us about the delay at the last minute. So, we couldn't organize anything, but, of course, we will do that at the end of the year.

What can you tell us about this Cello Sonata, by Enescu, a postmortem opus, which you recorded on this album. What is your relationship with this work?
I remember that the first time I interpreted this work I was eighteen years old and I have interpreted it for dozens, if not hundreds of times ever since. I interpreted it during my American tour, on which I went ten years ago, too, after I had won the competition in which I participated there. It is an extraordinary work, which I cherish very much. I am glad I had the chance to, finally, record it. I had tried to record it in numerous occasions. It is wonderful! Basically, Enescu started working on the Piano Sonata No.1, which everybody knows, he finished writing the first movement, then he changed his mind and rewrote it. This first movement is extraordinary, and the composer Hans Peter Türk rediscovered it about 20 - 25 years ago and completed it, because it had been left unfinished and so we were able to interpret it. It is, indeed, an extraordinary work, and I am certain that it will have a great impact on the listeners.

What are the elements which make the collaboration with pianist Alexandra Silocea go so well, be so resourceful?
I think we have matching personalities, even if we are, in fact, very different - she is a very cerebral, equilibrated kind of person; I am more spontaneous, more passionate - but this makes the result to be a good one, I hope. We got along very well and it has been a beautiful collaboration. And now, I think that the recordings which are to come will be just as good as this one.

What other future projects do you have and when are we to see you perform on a Romanian stage?
I too hope that you will be able to see us perform on a stage in Romania. Other projects I have prepared for this year … since we made a few changes regarding the members of the Brâncuși Trio - pianist Ferencz Vizi and violinist Artur Aguilar replaced two of the previous members, the trio has started to reanimate. This is why we are preparing a recording of the Trios by Cezar Franck for the Naxos recording label, an album which we will record at the end of this year. There are a lot of preparations and rehearsals which need to be made for this project. Again, there are two other albums, which we will record this year - one accompanied by Matei Vago, in Italy, and the Piano Sonata, by Ginasterra, accompanied by a Brazilian pianist; plus many other concerts, some in Brest, obviously, in America, accompanied by Matei, and a tour in China, accompanied by the Brâncuși Trio.
Alexandru Mija
Translated by Izabela - Elvira Vațe and Elena Daniela Vațe
MTTLC, The University of Bucharest