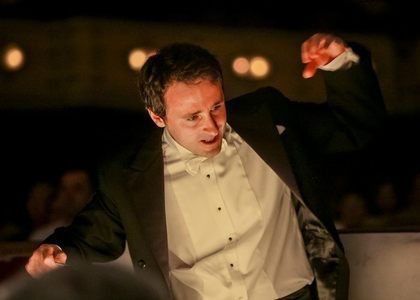 Janko Zsolt - the Conductor of the Radio Chamber Orchestra
Wednesday, 11 March 2015 , ora 10.00

On Wednesday, 11
th
March, 2015, a new concert of the Radio Chamber Orchestra will take place. The soloists will be the violinist Cristina Anghelescu and the oboist Adrian Petrescu. The two will perform the soloist score by Johann Sebastian Bach,
Concerto for Oboe, Violin and Orchestra in C minor, BWV 1060
. The programme also includes
Overture Op. 32 The Hebrides
and
Symphony No. 1 Op. 11 in C minor
by Felix Mendelssohn. The conductor will be Janko Zsolt, who stated about the collaboration with the Radio Chamber Orchestra:
I can't remember when was the last time I came here - I think it was two or three years ago - but I'm happy to return here. I think the orchestra is glad to have me here, considering the fact that they keep on evolving from one rehearsal to another. Working with them is a pleasure, they are professionals, they always want to perform as well as possible, they ask me interesting questions through which they show their interest, and that's the best thing about them.

This evening's soloists are Cristina Anghelescu and Adrian Petrescu. We're talking about a double Bach concert. What do you think about the dialogue between these two instruments ?
I think that these two instruments - both the violin and the oboe, develop a shrill sound and extremely technical playing characteristics , especially the oboe and go very well together. I think the expressiveness of both the violin and the oboe is something special and perhaps this is the reason why Bach chose these two instruments for the solo part.

Are a conductor's preparations any different when we talk about a double concert ?
Not necessarily. I think that... for instance, this concert can be performed on other instruments as well and I'm sure that there are transcriptions. It's a musical piece which I have to learn how to perform on any instrument and, being accompanied by a string orchestra, I'm interested in finding those colours which match the sound of the oboe and the violin.

The programme ends with two Mendelssohn works which were written six years apart. What are the common traits of the sound material ?
There aren't many common traits. The symphony was written when the composer was 15 years old - his first symphony, he was very young - but what we don't feel while playing it is that it was written by a child. The drama within this symphony... If we listened to it without knowing this detail , we would think it was written by somebody who was 25 or 30 years old. It's fascinating that Mendelssohn evolved very much in six years, after writing this symphony. He almost took a step towards programmatic music, as The Hebrides Ouverture actually resembles a picture; we can see those rocks in front of us and we can even see and hear the sound of the sea. It's a quasi-programmatic music, and at certain moment, even a quasi-impressionist work. The two works are very different. This symphony is closer to Mozart's world - classical in form and orchestration, as well - but The Hebrides present a different world. You can tell that Mendelssohn travelled a lot, saw many things and learned a lot during those six years. By listening to this work you can tell that he gained the experience of 20 years during those six years. I think that Mendelssohn was a wonder child, the same as Mozart, and this is proved by this symphony, which is full of beauty, energy... It is, in fact, a masterpiece; and the ouverture is a journey. I think we all love journeys. So let us enjoy this Hebrides Ouverture. And the double concert is a jewel; there is nothing else I could tell you about it . It's a jewel with its different parts and with that wonderful adaggio. It's going to be a beautiful concert and not merely a musical journey, but a journey in itself.
Lucian Haralambie
Translated by Ioana Săbău and Elena Daniela Radu
MTTLC, the University of Bucharest