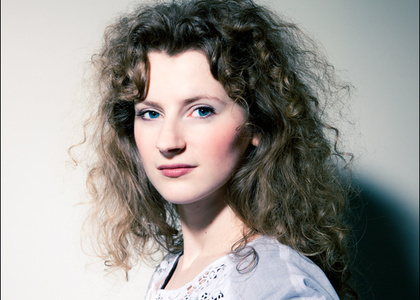 Alexandra Silocea's Album Release
Monday, 9 March 2015 , ora 12.20

A new album of cellist Laura Buruiană and pianist Alexandra Silocea will be released on Tuesday, March 10th, 2015. The album includes Dmitri Shostakovich's Sonata for Cello and Piano in D minor, Op. 40, Sergei Prokofiev's Sonata for Cello and Piano in C major, Op. 119 and George Enescu's Sonata în fa minor op. Postum. Alexandra Silocea tells us more about the album released by Avie Records in this interview:

Your following week will be busy. The first event takes place on Tuesday, March 10th, 2015 - the release of the album done in collaboration with another Romanian performer - cellist Laura Buruiană. How did this collaboration begin and how did this CD come into being?

This collaboration has started spontaneously in 2013, after Laura had listened to my debut album at Avie Records - Prokofiev's first 5 Piano Sonatas - in a programme on Radio France. We knew each other from Romania, but we had never played together. She then got in contact with me, wanting to play Prokofiev's Cello Sonata. My record label agreed and we then recorded together in September, 2013, in Paris, having the same team that I had for my previous two albums: Sébastien Chonion in the role of the recording producer.


We're talking about works by Enescu, Prokofiev and Shostakovich. Why did you choose the music of these composers?

Out of the three albums I recorded on Avie Records, two of them include works by Prokofiev, one even entirely so, the first 5 Piano Sonatas, to be precise. Therefore, Prokofiev holds a very important place both in my heart and in my repertoire. The album I recorded with Laura Buruiană revolved around Prokofiev's Sonata, Shostakovich's joining in quite naturally. And then we thought that, being two Romanian artists, it would be wonderful to include this Sonata by Enescu. I confess, I hadn't known it, but it was a nice discovery. This piece is as beautiful as it is difficult to play.


On Wednesday, March 11th, 2015, you will be the soloist of the Meininger Hofkapelle, in a concert conducted by Leo McFall. A couple of words about meeting these musicians…?

I have known Leo McFall for some time, I've often listened to him in opera productions performed at Glyndebourne, but this is our first collaboration. I admire him a great deal; he is a young conductor with a lot of experience, with a promising future, with a special sensitivity, both as a musician and as a human being. Regarding the orchestra, Meininger Hofkapelle is one of the oldest orchestras in Germany, in Europe as well. Liszt, Wagner, Hans von Bülow left their mark here; and if I take into account the fact that Brahms's Symphony No. 4 was first played in Meiningen by the Meininger Hofkapelle and Brahms often led this orchestra, the more excited I am to meet it, listen to it and play together.


The chosen opus is Sergei Prokofiev's Piano Concerto No. 3. Why did you choose this work?

There are three possibilities when you're invited to play with an orchestra. Firstly: the orchestra proposes a certain concerto. Secondly: the conductor wants to play a certain concerto with a certain soloist. And the last: the soloist chooses a concerto. Conductor Leo McFall wanted us to play this particular concerto on March 11th together. That after he had listened to my debut album on Avie Records, with the first 5 Piano Sonatas by Prokofiev and knowing of my affinity for this composer. I can only be happy that he has chosen this concerto and I really hope that sometime in the future I'll have the opportunity to play this concerto or any other of
concertos by Prokofiev in Romania too.
Lucian Haralambie
Translated by Bucur Adrian and Elena Daniela Radu
MTTLC, the University of Bucharest