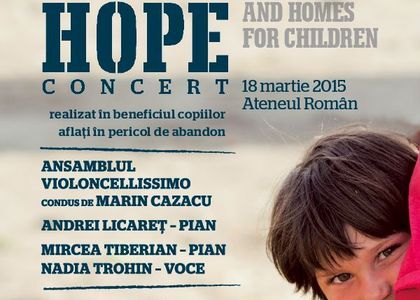 Oana Drăgulinescu on 'Hope Concert', an Event in Favour of Underprivileged Children
Wednesday, 18 March 2015 , ora 9.41

The 'Hope and Homes for Children Romania' foundation are organizing
Hope Concert
, coming to the support of underprivileged children in Romania, the foundation's objective being the replacing of the institutional system of child protection with one based on a family concept.
Oana Drăgulinescu
, the concert's organizer, provided additional details on this event.

Dear lady, the Hope concert - organized by the 'Hope and Homes for Children Romania' foundation - is at its third edition. Before anything else, we'd like to hear a few words about the purpose of this event.
It is a charitable event. 'Hope and Homes for Children' wishes to associate their cause, a cause of social responsibility, dedicated to vulnerable children, with art. After all, the association between art and social responsibility is one of the merriest. We've reached the third edition of the Hope Concert and I believe we've already drawn the public's attention to the efforts that this organization has been making in Romania for 16 years, so that there would be no more children without families or love. Basically, 'Hope and Homes' has been trying, for 16 years now, to solve the issue of vulnerable children, of families on the verge of abandonment. If 16 years ago there were about 100.000 children that were into state custody, now there are only 8.000, and the foundation plans to reduce that number to zero before 2020. This project of de-institutionalization seems to be one of Europe's most fruitful ones. Romania has actually become a model for the manner in which it's trying to offer alternatives to children that were abandoned or that lack a family.

What artists will perform in this year's edition on the Athenaeum's stage?
We've always enjoyed the support of some great Romanian artists. Alexandru Tomescu has been 'Hope and Homes for Children's ambassador for three years, now. This year, Alexandru Tomescu won't be on stage, but he will support us, as he always does, and other artists in favour of our project - such as Andrei Licareș, the 'Violoncellissimo Ensemble' led by master Marin Cazacu, soprano Irina Iordăchescu, Zoli Toth with 'Zoli Toth Project' and several surprises - will also be there. This is a novel project so we've wanted to bring equally unusual associations every time, such as that between the orphan children and the Athenaeum's Hall. This time we'll have a mix-up of jazz and step dance, done by Mircea Tiberian and actress Ana Pepine, and a moment of jazz by Mircea Tiberian and Nadia Trohin, in a special orchestration done by Dan Dediu for this soloistic piano, voice and cello orchestra formula. More than this, we'll have a live graffiti performance broadcasted live from outside the Athenaeum on the Athenaeum stage. As far as we know, this association has never been done before; there's a considerable distance between classical music and graffiti, but we've thought that just as we associate the Athenaeum's public with these suffering children, with families that are on the verge of subsistence, we can also associate this street art with classical music.
Alexandru Mija
Translated by Bucur Adrian and Elena Daniela Radu
MTTLC, the University of Bucharest