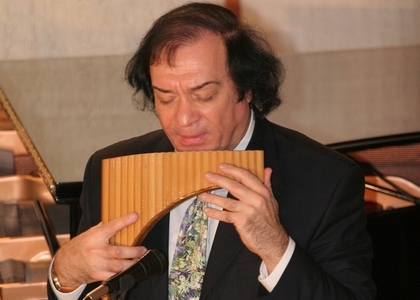 Cornel Pană is the Soloist of the Radio Chamber Orchestra
Wednesday, 25 March 2015 , ora 10.09

Romanian Radio Chamber Orchestra invites you on 25
th
March, 2015, to a musical evening in a unique way: two concerts which belong to the Baroque musical , one written by Vivaldi and the latter by Händel, will be performed in the panpipe version. The soloist of the ensemble conducted by Cristian Brâncuși will be
Cornel Pană.

You are coming back on the stage of the Radio Hall in order to collaborate with the Radio Chamber Orchestra and Cristian Brâncuși. Do you have something to share with us about meeting again with these musicians?
It is well said comeback and not just coming, because I have collaborated with this orchestra three times already. And Cristian Brâncuși was my colleague at the Conservatory - older than me - and we had a special soulful kind of affinity. The Orchestra is perceived as being a prestigious one, it is an elite orchestra, all its members being people of the microphone, and I cannot but appraise them.

You will perform this evening two concerts of the Baroque epoch, transcripted for panpipe. How difficult is this transition from flute to panpipe?
It is difficult because it's all about a different technique, it's about a different use of the panpipe, and a different manner, too, another handling of the vibrato and sonority. It is quite difficult; but my intention has always been that of drawing the panpipe out of its preconceived image of a folk instrument, and in exchange, present it as a relevant instrument for any genre of music.

How does the panpipe fit itself in this Baroque style?
I believe it fits marvelously. It is approachable by any composer, except perhaps for the trumpet music with many saltos, but the clear articulation and clear sonority of this instrument make it much welcomed especially in the Baroque music.
I invite all those who love the sounds of panpipe but also those to whom this instrument is unknown, I invite the music lovers to make a step forward in perceiving this huge musical phenomenon and come back spiritually fulfilled at the end of this sonorous experience.
Lucian Haralambie
Translated by Anca Romete and Elena Daniela Radu
MTTLC, the University of Bucharest