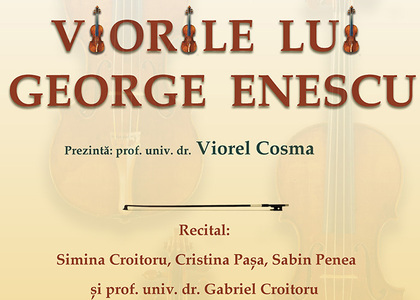 'George Enescu's Violins' - at the Cantacuzino Palace
Monday, 30 March 2015 , ora 12.01

'
Did you know that virtuoso violinist George Enescu was also a passionate instrument collector, with a limited collection? Have you found out, until today, how many violins our great performer played along his career for over half a century? Can you believe that the the owner of a Stradivarius instrument (the most brilliant and expensive violin maker in the world) rejected this
'
treasure', choosing a 1731 Guarneri del Gesù over it, and even played Romanian violins Știrbulescu (1922) and Macarie (1915)? Have you ever heard of a craftsman (Paul Kaul from France) building a customised cello, starting from the instrument's recipient's left hand dimensions?' (Prof. Viorel Cosma).
Here are a couple of questions whose answers can be found at the 'George Enescu's Violins' exhibition, organized by the 'George Enescu' National Museum, on Monday, 30th March, 2015, starting from 18:00, at the Cantacuzino Palace in Bucharest. For the exhibition, done by Prof. Dr. Viorel Cosma, scientific consultant, and curator Dr. Adina Sibianu there were used documents from the 'George Enescu' National Museum's archive and from musicologist Viorel Cosma's private collection.
Cristina Andrei, the musical director of the 'George Enescu' National Museum provided additional details regarding the 'George Enescu's Violins' exhibition:
Enescu's violins are the most important pieces that we have in the museum's heritage. We have four violins in Bucharest and one in Tescani that Enescu received as an award from the Music Conservatory in Paris. These aren't all the violins that Enescu played; that's precisely why we felt the need to make an exhibit that would show Enescu's career steps accompanied by his instruments - since he was a child until he passed away. At the same time, it is an extremely interesting topic and tackled this time bearing in mind that we initiated this project last year by lending the violins owned by the museum, as well. Sure, it's a well know fact that the most precious violin, Guarneri del Gesu, has been in circulation since 2008, being entrusted to master Gabriel Croitoru - a friend of the museum, a close friend of ours. Gabriel Croitoru has won the right to play this violin in a competition. There is a contract between the museum and him through which we entrust the instrument to him for special events, important concerts, such as the 'Duel of the Violins' tour, 'Enescu's Violin in Villages' and Gabriel Croitoru's both national and international concerts at famous philharmonic orchestras. Therefore, this Guarneri violin has been lent for several years. But we still have three violins that can be played and - this is where I was trying to get - we've sort of passed them on starting with last year. There have already been two events, two recitals performed by young violinists with these wonderful instruments. They were heard together on stage for the first time in June, 2014, when we held a blind audition, not letting the young people know what they were playing, so that the public, based on a survey, could express their opinion regarding the heard instruments without knowing the violins' brand beforehand and thus, without being influence by it.

A recital will be held this evening as well, after the opening of the exhibition you have organized, performed by three young people. I would ask you to name them and talk about what the audience will listen to.
First of all, it's about the violins that will be heard. Next to Guarneri, masterfully wielded, as usual, by maestro Gabriel Croitoru, the two Paul Kaul violins will be heard again, violins ordered and made by the French craftsman, Paul Kaul especially for Enescu, and also a Freres Silvestre violin. The young people that will be joining us will be Simina Croitoru, Cristina Pașa and Sabin Penea. They will perform works from the violin-related repertoire that Enescu also tackled during his lifetime, great, famous works. There will also be a theme with four-violin variations, which is also a premiere. Of course, maestro Gabriel Croitoru will end the concert with Enescu's Lăutarul, the first song from the Impresii din Copilărie suite.
It will definitely be a special event, and I must reveal another detail - maestro Viorel Cosma, our beloved musicologist, is reaching a respectable age. The maestro is also our beloved friend, the museum's, he's with us at all the events. He organized this exhibition together with curator Adina Sibianu; therefore, there will be several events. I hope the public will enjoy all that we have to offer. I hope it'll turn out to be a beautiful afternoon.
Lucian Haralambie
Translated by Bucur Adrian and Elena Daniela Radu
MTTLC, the University of Bucharest